Here at MartianCraft we often find ourselves taking advantage of our work environment by moving about our locales during the day. Naturally, this lends us to carry our work environment with us, so here is a small peek into what some of us carry…
Alan Bradburne
Server-side Sorcerer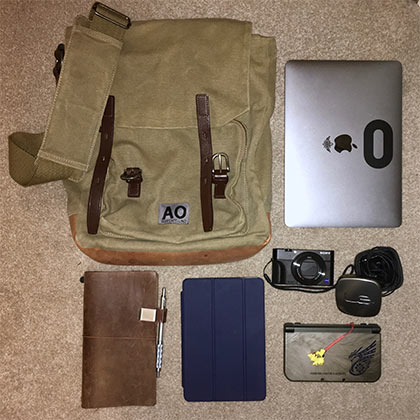 Bag: Ally Capellino vertical canvas satchel
What's in the bag:
MacBook
iPad mini 4
Sony RX100 mk III
Nintendo New 3DS XL (Monster Hunter 4U edition)
Ultimate Ears triple fi 10
Midori Travelers Notebook w/ Pentel Graphgear 1000
What's your favorite part about this kit? Despite being pretty light, thin, and compact, I have everything I could ever need or want to work or relax. If I want to shed a few extra pounds and travel really light, I might begrudgingly leave the 3DS or camera at home, with the iPhone standing in. Aside from the practical nature of this kit, I have to admit that I love the aesthetics and the materials of each item.
Ben Brooks
Resident Snack Expert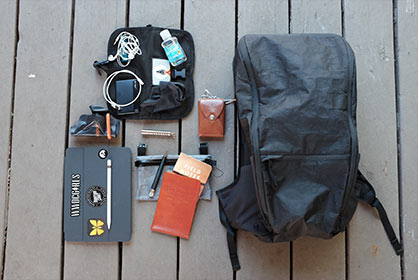 Bag: Outlier Ultrahigh Quadzip
What's in the bag:
9.7" iPad Pro w/ Smart Keyboard Cover
Apple Pencil
Vapur Water Bottle
Slimgear Lightning Battery Backup
0.5m Apple Lightning Cable
Apple earbuds
Chapstick
GermX hand sanitizer (people are gross)
Lens cleaning cloth
GORUCK Wire Dopp Mini w/ MartianCraft morale patch
Beta-QRv2 Flashlight
Zpacks Pouch
Retro 1951 Tornado Pen
DDC Stuff Sheath w/ Field Notes
Hard Graft box case w/ Business Cards
What's your favorite part about this kit? The lack of weight. Everything in this setup is the bare minimum of what I need, balanced with nice to haves — but it all weighs next to nothing. All packed up in the bag, it weighs 3.9lbs.
Brian Buck
Developer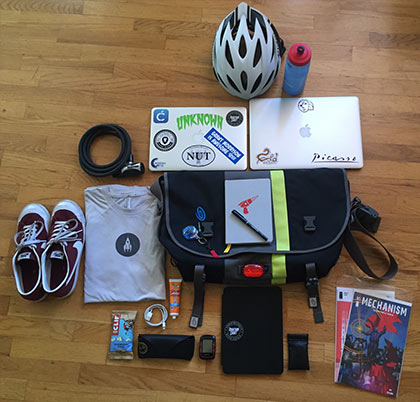 Bag: Timbuk2 extra large messenger bag
What's in the bag:
Viewport rear bike light clipped to bag
Giro helmet (clipped to outer bag when not riding)
Water bottle (on bike when riding)
Either fully charged, personal 13" rMBP OR client supplied 15" MBP - rarely both
Kryptonite cable bike lock with key attached to bag leash
Change of street cloths to change out of riding gear/cleats
MartianCraft notebook w/ Pilot rolling ball pen
Lightning cable
Sunscreen
Riding snack for energy on ride home
Ray-Ban sunglasses
Garmin 500 cycling computer w/ heart monitor
iPad Air 2, always with latest iOS beta installed
V-Moda earbuds
Healthy supply of comic books when I need an escape, or for long compiles
USB drive for important file backup while offline
(not in photo) iPhone 6 carry on latest released iOS version.
What's your favorite part about this kit? It can haul all this stuff and still be (somewhat) light and comfortable to ride. It protects my MacBooks and iPad. Rarely do I carry both Macs but I prefer the 13" to save weight.
Brian Harmann
Cocoa Developer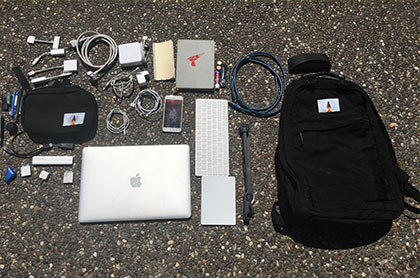 Bag: GORUCK GR1
What's in the Bag:
An old SD card adapter for iPad
Some Thunderbolt to other things adapters
Random pencils and pens and my favorite stubby pencil from Florence
Square and PayPal card readers
My old hard drive in a case/USB adapter
Watch and iPhone cords and misc power adapters (I always forget my watch charger so I decided to just have a second one in the bag at all times)
Checkbook (I only find myself using this at the oddest times, so I always have it with me just in case)
Firewire 800 -> 400 adapter (you never know when you will need one of these)
Test iPhone 6
Notepad
Tums
Nail clippers
Chapstick (from Yosemite)
HDMI cable (For use in hotels when I want to watch movies I have stored on my MacBook)
Roost laptop stand
Magic Keyboard and Trackpad
Old glasses with an old prescription just in case I break or lose the ones I wear
MacBook Pro
Cory Bohon
Cross Platform Engineer (a.k.a. I make shiny things on a multitude of screens)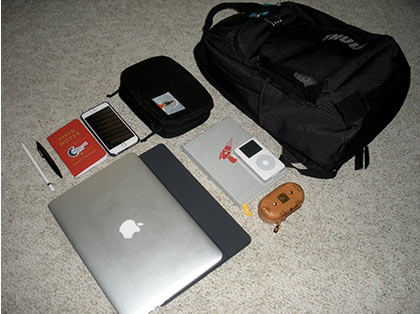 Bag: Thule Crossover 32 Liter Backpack
What's in the bag:
13" Retina MacBook Pro (Early 2015) maxed out everything
13" Retina MacBook Pro (Early 2015) client machine (it's so confidential, it doesn't show up in any photos I take of it)
12" iPad Pro w/ Smart Keyboard Cover
Apple Pencil
Enough Apple Lightning Cables to make a ladder in case of emergencies
Beats Tour In-Ear Headphones (MCM Edition)
GORUCK Padded Field Pocket GR-1 w/ MartianCraft patch
Apple Branded Pen
South Carolina edition Field Notes
Business Cards in an Apple branded card holder
MartianCraft branded Baron Fig Confidant notebook
iPod 4th generation (this has the best sound of any portable Apple device to date)
What's your favorite part about this kit? I like to travel light with my equipment (fewer items to keep track of, and fewer things to lose), but I still have all of the necessities and they fit nicely in the backpack and leave enough room for travel documents and MagSafe adapter if needed.
Dave Wood
Engineer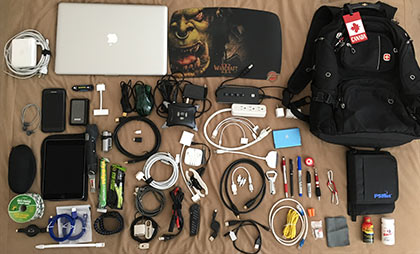 Bag: Swiss Gear Bag (w/obligatory Canada luggage tag)
What's in the bag:
17" Macbook Pro w/power block
Func Mousepad
2 Quirky Bandits (bungie cords)
Samsung S7 Edge (Test phone)
Corsair 32G USB 3.0 Flash Drive
Anker external battery
30-pin iPod to HDMI adapter
Razer Naga Hex Mouse
Dynex USB Hub
Monoprice USB 4-port USB charger
Mini power bar
3-way USB to Lightning/Micro USB/30-pin iPod adapter
30-pin iPod to Lightning adapter
3 USB chargers
Business cards
Sunglasses and case
iPad Mini 4 and case
Flashlight
Torch lighter
Various Glow Sticks
Long USB-A to USB-A cable
USB-A to USB C adapter
Micro USB to Lightning adapter
30-pin iPod to Component video adapter
30-pin iPod to VGA adapter
Headphones
Spare headphones
Audio splitter
Audio port adapter
SATA to USB adapter
HDMI cable
Mix and match adapter (various ends)
Bottle opener
5 assorted pens
4 carabiners
Rope
Scosche Retractable Lightning cable
2 long Lightning cables
1 ultra short Lightning cable
2 paracord survival bracelets
Kensington lock
Luggage locks
Spare Apple TV power cord
Gerber knife
Retractable Micro USB cable
2 Micro USB cables
2 ethernet cables
Ear plugs
Baggie with assorted SIM cards
Microfibre cloth
2 pouches for storing all the above adapters
5-hr Energy Drink
Assorted pills (Caffeine, Tylenol, etc)
What's your favorite part about this kit? It's my prepared for almost anything set up. I can connect all kinds of devices together as needed. In a hotel room with an old TV and want to watch an iTunes movie? I can make that happen. Have an old iOS device that crashes when trying to play Pokémon Go, I can fix that (yes, that happened this weekend). Have a device with a dead battery, I can charge it with some combination of adapters. Need to MacGyver something? This bag will definitely help. Zombie attack? You'll want to see my duffle bag. :)
Eric Blair
Lead Engineer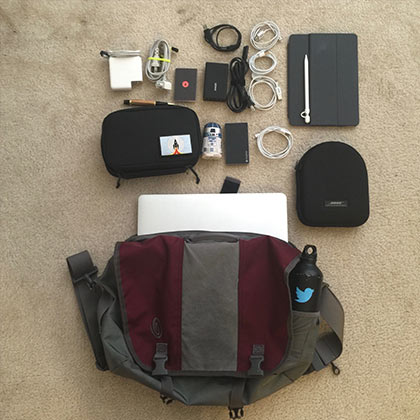 Bag: Timbuk2 Custom Commute Messenger Bag
What's in the bag:
MacBook Pro 15", Early 2013
9.7" iPad Pro with Smart Keyboard Cover
Twitter water bottle
Bose QuietComfort Headphones
1m Apple Lightning Cable
2x 1m Anker Lightning Cables
1m USB micro Cable
1m Apple Watch Charging Cable
Anker 5 Port USB Charger
Apple 60W MagSafe Power Adapter with cord
MagSafe to MagSafe 2 Converter
MagCozy
Apple Pencil
PencilCozy
Business Cards
Hand-made pen
GORUCK GR1 Field Pocket with MartianCraft morale patch
Mophie Juice Pack Powerstation
Mimoco R2-D2 MimoPowerBot
What's your favorite part about this kit? I've got a fair bit of stuff here, but it's all quite modular. With the exception of the the MacBook chargers and one Lightning cable, the cables and batteries live in the GORUCK. If I'm just stepping out of the house for a few hours, I can quickly yank that and the water bottle from my bag and get a much more compact kit. Conversely, if all I want is my iPad and power, I can toss the iPad and the GORUCK into a significantly smaller messenger bag I frequently use when I'm out and about.
Jaimee Newberry
Captain of Fun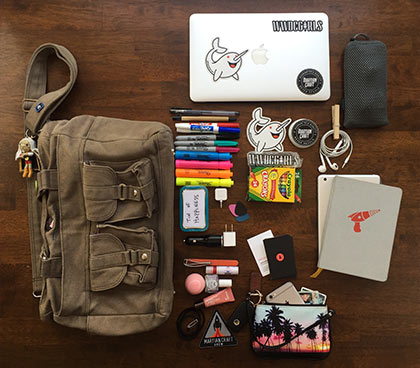 Bag: Handbag of Holding
What's in the bag:
Assortment of writing/drawing utensils
Tin of Happiness
Square card reader
Guitar picks
Charging blocks for wall and auto
Personal care essentials, travel light edition
MartianCraft patch
My everyday mini-satchel that carries my phone, bank cards, ID and car key
MartianCraft branded sketchbook
iPad mini
Apple earbuds
Backup power source
11" MacBook Air
MartianCraft, Narwhal and WWDCgirls stickers for distribution
What's your favorite part about this kit? This bag can hold WAY more than I've got here, but this stuff here has me covered whether I'm leaving town or working away from the home office. If I'm traveling overseas, I add my passport and a sleep mask, and button a neck-pillow around the shoulder strap. The bag abides.
Joe Keeley
Lead Engineer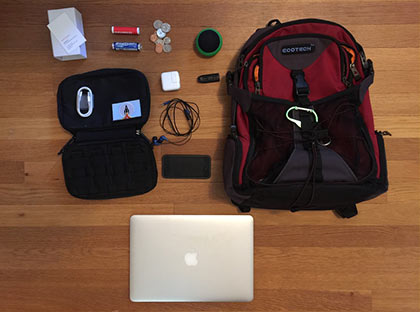 Bag: Ecotech
What's in the bag:
This depends on the duration of the trip. If it's a coffee shop / partial day outing, the bag includes:
MacBook Air (no charger)
Vapur Water Bottle (not pictured - but awesome)
Brookstone screen cleaner
Business cards
Chapstick
Mints
Spare change
GORUCK Wire Dopp Mini w/ MartianCraft morale patch, containing:
Apple 10W USB power adapter + 2 lightening cables (always have a backup!)
Test device (typically a 5S or 5th gen iPod touch)
Skull Candy headset (great value at $10 - works well, not afraid to lose them!)
SanDisk 64GB USB drive
For an overnight or longer, I will typically add:
MacBook Air charger
iPad air with LTE, with extra lightening cable (used as extra screen with Duet, and "battery extension" for typical apps)
Passport carrying case + passport and paper itinerary as needed
What's your favorite part about this kit? It's really light, still has plenty of room for extra stuff (like when traveling with kids - I end up carrying all the iPads and chargers and whatnot), and I have everything I need to get work done. This was my loadout for 10 weeks in Southeast Asia.
Kevin Wenning
Project Manager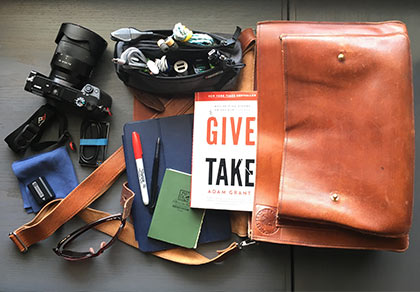 Bag: Handmade camel leather bag from Jerusalem Israel
What's in the Bag: 
iPad Air 2
Whatever current book I'm reading
Rite in the Rain pocket notebook
Black Pen
Sharpie
$3 pencil bag from Walmart with my charging cords and adapters
RavPower Filehub for battery/wifi/data transfer (not pictured)
No tangle earbuds
Nite Ize led flex light
Sony a6000 with a 24-70 f4 lens
Peak Design Leash camera strap
MyDigital 512GB SSD drive
Lens Cloth
Extra camera battery
Maui Jim sunglasses
What's your favorite part about this kit? I can work, entertain myself, or be creative anywhere in the world whether I'm on the road, in an office, or stuck in an airport.
Kyle Richter
CEO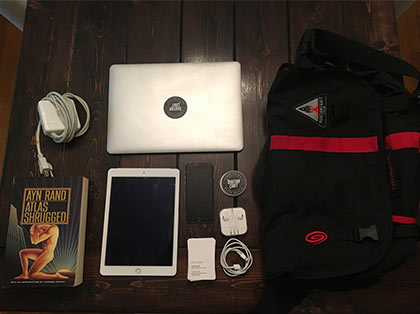 Bag: Timbuk2 Messenger Bag
What's in the bag:
Macbook Air
Power Cord with Extender
Apple Headphones wrapped in original case
iPhone 6s
iPad Air 2
Device Cable
Extra Business Cards and Stickers
A good paperback book
Nick Keppol
Creative Director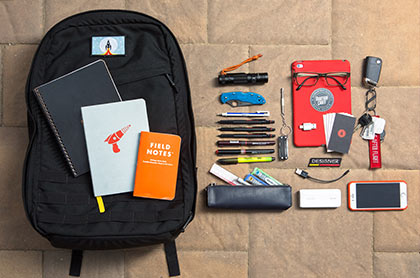 Bag: GORUCK GR1
What's in the bag:
Rhodia Meeting Notebook
Baron Fig MartianCraft Confidant Notebook
Field Notes
Olight S30R
Spyderco Delica 4
Tombow MONO Zero Eraser
Rotring 600
Rotring Tikky
Highlighter
Pencil Case
Leatherman Squirt
iPad
Glasses
SanDisk 64GB Dual USB-C Flash Drive
Lightning Cable
Anker 5200mAh Battery
Keys
iPhone 6
Richard Turton
Cocoa Engineer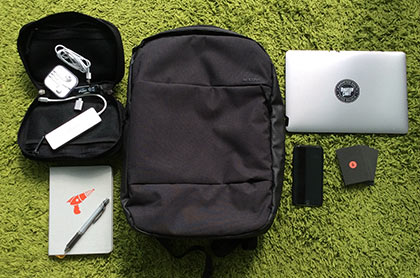 Bag: Incase city compact
What's in the bag:
MacBook (early 2016, 1.2GHz Intel core m5, 512GB SSD)
iPhone 6S (64GB) in Apple leather case. Without the case it falls out of my pocket or hand too easily.
MartianCraft business cards - so sturdy that in emergencies they can serve as weapons or fashioned into a temporary shelter
Baron Fig MartianCraft branded notebook and mechanical pencil
GORUCK pouchy pocket thing with MartianCraft patch - for all the wires and bits, including:
Apple earbuds (yes, I keep them in the box, yes, I figured out how to re-roll the cord properly)
Anker USB-C hub
Tiny USB-C to USB adapter
Lightning cable
32GB USB stick
What's your favorite part about this kit? The MacBook. Probably the best Mac I've ever owned.
Thomas Ingham
Cross-Platform Huckleberry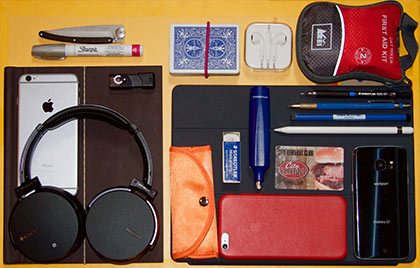 Bag: Booq Boa (not pictured)
Currently out of the bag:
Deejo Grenadilla pocket knife.
Sharpie metal-marker (basically spray paint in a pen, marks anything.)
Bicycle standard playing cards… (idle hands)
Backup wired headphones
REI day hiker first-aid kit
Strathmore 400 Series sketchbook
iPhone 6+ (iOS - 1) development device.
Centos backup OS on thumb drive
Sony XB950BT wireless cans
iPad Pro
Sally Hansen nail-care kit (in orange)
Staedtler: Mars nub eraser, mechanical eraser, 925 / Technico mechanical pencils, Apple Pencil, City BBQ rewards card, iPhone 6+s carry-phone, Galaxy S7 Android development phone
Zach McArtor
Cocoa Engineer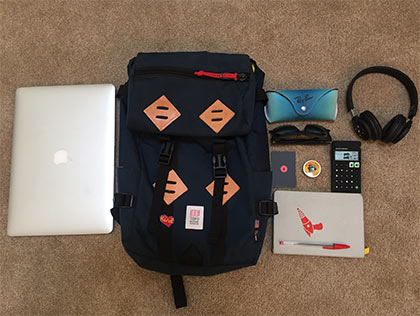 Bag: Topo Designs Klettersac
What's in the bag:
i8 15" macbook pro
Rayban sunglasses
Business cards
Burts Bees hand baume
Teenage engineering pocket operator drum machine
Baron fig notebook w red pen
Bluetooth headphones
 What's your favorite part about this kit? Setup is half remote-tech worker, half hiker, adventurer. Topo KletterSack is still stylish enough to fit into chic coffee spaces while crushing out code and functional enough to hit trailhead in time to catch a sunset.