At MartianCraft, we've all been working from home since before it was cool, but it's certainly got a lot more popular of late. So, unlike many people, I didn't suffer a sudden withdrawal of human company when the world went into lockdown, but the opposite — my blissfully quiet house suddenly became full of other people, and they were here all day! It's enough to make you miss a cubicle. Well, almost. Two years in, I'm starting to kind of like my new co-worker, now we've settled into our routines.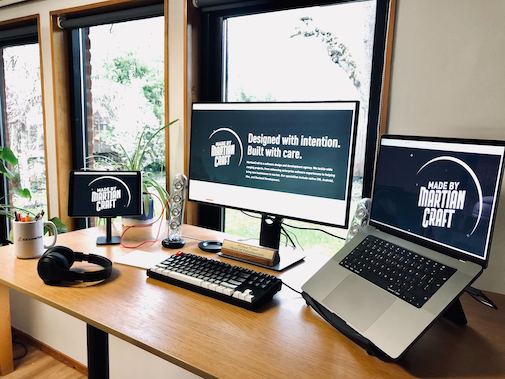 The Room
Over the years, I have worked in four different home office locations. The first was a small desk crammed under the stairs in the corner of the living room. This was not good. It was gloomy and cramped. Work was always lurking in the corner of the room when I was trying to relax, and the sofa and TV were always lurking in the corner of the office when I was trying to work.
Once my youngest daughter was old enough to share a room with her sister, we rearranged our three-bedroomed house. The girls got the biggest bedroom, complete with bunk beds and a bespoke reading loft/indoor tree house I built in the old wardrobe alcove. We got the second bedroom, and the tiny box room became my office.
It was just about wide enough for my desk to fit in and felt a lot roomier once I moved to a full-time standing desk and could get rid of the chair. This was a good office; it was a small room, which meant it didn't get cold in the winter; I had a view over fields and a river valley; and it had no purpose other than to be an office, which meant it was easy to switch in and out of "work" mode.
Then we moved house, and my office was half of the guest bedroom. This wasn't as good, because the natural lighting wasn't great, my view wasn't as nice, and the idiosyncratic British heating system didn't reach that room very effectively unless you were very strategic about which doors you left open and which ones you left closed (which never tied up with the cat's idea of which doors should be open or closed).
We had a lot of renovation work to do on the house, which was in progress when, all of a sudden, you weren't allowed to have strangers wandering around your house doing things like replacing flooring any more. I got a new co-worker (my wife), and the guest bedroom (which seemed unlikely to house guests in the near future) gained another desk. Once our downstairs renovations were done, we moved to the dining room, which is the office we use today.
One wall of the room is almost entirely taken up with windows, and there is another window to the side. This gives us both a view out into the garden, which we are working on to make into something of a wildlife haven. Every day we are visited by lots of different birds. There is a family of squirrels, and in the spring and summer a carpet of beautiful wildflowers attracts bees, butterflies, and dragonflies.
The windows, while large, don't really let in enough light to work by. This is where my first indispensable piece of home office equipment advice comes in: IKEA's FLOALT light panels. Get (at least) one on your ceiling. If that's not enough, put some on the walls. They are incredible. Huge, with adjustable color temperature and brightness. (I have full daylight mode on when I'm working.) They don't cast shadows, they don't flicker, they're relatively easy to fit depending on your existing wiring, and they barely use any electricity. If you have a single-bulb fitting in the ceiling of your home office, you're doing yourself a disservice. Hacking away in the dark is for TV shows, not real life.
A well-lit, comfortable room, which (if you're able) is dedicated to working. That's the location you're looking for. Now, what to put in it?
The Furniture
I'm a big fan of the standing desk, which I realise doesn't appeal to everyone. I got an electrically adjustable one so that I could switch between sitting and standing, but it didn't take long before I was only ever standing. Being at a standing desk makes it much easier to step away for short periods, and even a quick circuit of the room can work wonders for clearing your mind or shifting focus when working on something difficult. In a chair, it's too easy to stay where you are. Another bonus is the great storage area underneath the desk, plus you don't need to have room for (or spend money on) a nice office chair.
A standing desk is not a magic bullet for ergonomics. You still need to make sure your screens are at the correct height for sustained use. A laptop placed directly on the desk is unlikely to be in a good position for you to work on it all day in a healthy posture. When working on an iMac, I had the computer and external monitor mounted on VESA arms. Now I use a MacBook Pro, the laptop is on a riser stand and I use an external keyboard and trackpad.
The Hardware
After years of having a separate iMac and MacBook, I was just about to switch to a 15-inch MacBook Pro when the transition to Apple Silicon was announced, so I had quite a long wait before I could get my hands on a 16-inch MacBook Pro as my sole computer. It's twinned with a Dell U2720Q 27-inch 4K monitor, which connects to the Mac with a single USB-C cable, delivering power and data.
I love this, because I only have to unplug a single cable when I want to work away from my desk. This has become more important to me over the past few years, when I've needed to be able to work in different parts of the house. Plugged into the monitor, all working seamlessly over that single cable, are desktop speakers (Harman Kardon soundsticks and subwoofer), a partitioned hard drive used for Time Machine and SuperDuper cloning backups, a lightning cable so I can plug in my iPad or iPhone for testing or charging, and a MartianCraft-themed custom WASD mechanical keyboard.
I'm not really a keyboard enthusiast, but the WASD looks and feels great, and when the laptop is on the riser you can't use its built-in keyboard. I do use the Touch ID often, though. I use a Magic Trackpad 2 as well, which is a great improvement on the first model.
Hanging under the desk, I have a pair of Beats Studio noise-cancelling headphones, which were previously used to drown out the noise of aeroplane flights and are now used to drown out the sound of my co-worker's frequent Zoom meetings. They are also useful for diplomatically resolving our occasional differences in musical taste. I love Wilco, but I love my wife more.
The Software
As an iOS developer, I spend most of my day in Xcode, as you'd expect, but there are a number of other software tools I use every day. Many of them are available via SetApp, which I've subscribed to for several years and consider to be excellent value for money. From that service, I regularly use CodeRunner, Paw, Gifox, Proxyman, and Base, and there are lots of others I use more occasionally or outside of work. It's a great service for when you want a utility for "just that one job"; there is usually something that can help you out.
Outside SetApp, I use BBEdit for text, 1Password for passwords, A Companion for SwiftUI for filling in the gaps in the SwiftUI documentation, xScope for measuring and checking layouts and colors, GitUp for staging commits, Kaleidoscope for resolving merge conflicts and diffing, PopClip to get an iOS-style custom pop-up menu whenever I select text, and Alfred for navigating and controlling pretty much everything else on the Mac. I use most of these programs at least once a day.
The Day
Working in a traditional office gives you a clear delineation between work and home. Commuting by definition involves physically moving to a different location, which gives your brain time to change gears and transition. It's harder to draw these mental and physical boundaries when your home is also your workspace, especially if you aren't able to dedicate a space in your home solely to working. I find walking my children to school is an excellent way to "commute" to my home office, so I come back in through the door and go straight to work.
Physical movement, whether it's part of a "commute" or not, is very important. Rolling out of bed and into your office chair might sound appealing, but it isn't a sustainable practice in the long term. It's important to get out of the house at least once a day if you can — particularly in the winter, when going outdoors for some exercise in the middle of the day could be the only time you see daylight. If I've been struggling with something at work, getting outdoors and away from the problem almost always helps to get things unstuck in my brain.
Working at home also gives you the chance to fully optimise your snacking and eating schedule. Last year I treated myself to an espresso machine, which greatly improved the quality of our daily mid-morning coffee. Further improvements arrived when my co-worker found out about the Swedish tradition of fika: a more deliberate coffee break, ideally with a homemade cake, which she now often supplies.
For lunch, I often have something that is hot and ideally a little bit greasy, like a grilled cheese sandwich. Not only are hot and greasy two of the most important food groups, they are also impossible to eat at your desk while continuing to work, or indeed while using any kind of screen. I like to read a paper copy of a newspaper over lunch, like it's the 1950s.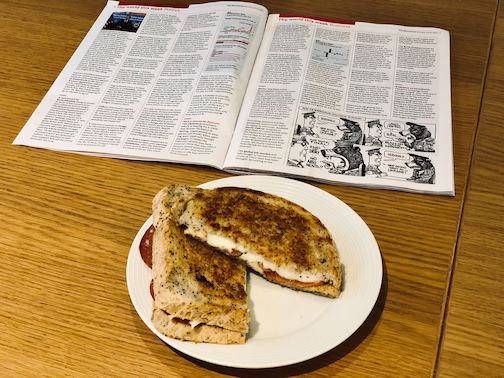 Being at home all day also allows you to attempt more interesting or complex mid-week meals than you might do otherwise. Many delicious foodstuffs involve a few minutes of work and a few hours of waiting (homemade bread, slow-cooked stews, and so on), which I find fits comfortably into my working day without too much disruption.
Before I get fired for making it sound like I spend my entire day staring at my garden, going for walks, having coffee breaks, and cooking dinner, I have to point out the final, most important thing about making working from home successful: You have to do the work.
Remote working is built on trust, accountability, and communication. You are responsible for your output, motivation, and discipline. You have to let people know what you are working on and flag up issues in a timely manner. You must work with your clients or managers to make sure that everybody has the same clear idea of what is expected from you and when it is expected. If you fail on that front, a standing desk and fake commute isn't going to help you.
But get it right, and you've probably found one of the best employment set-ups out there.