On Tuesday, March 8, we all welcomed the first Apple event of 2022. We had an idea that there might be some new Mac announcements, and I think most Apple fans understood that there would be a Studio announcement to offer a modular office setup that could rival (maybe, somewhat) the Mac Pro and improve on the concept of the Mac mini form factor.
And it all came true.
Mac Studio + Studio Display
Sure enough, Apple showed off a new, powerful Mac Mini-looking device that does not come with the high price of a Mac Pro setup (Mac Studio starts at $1,999) and does not need wheels.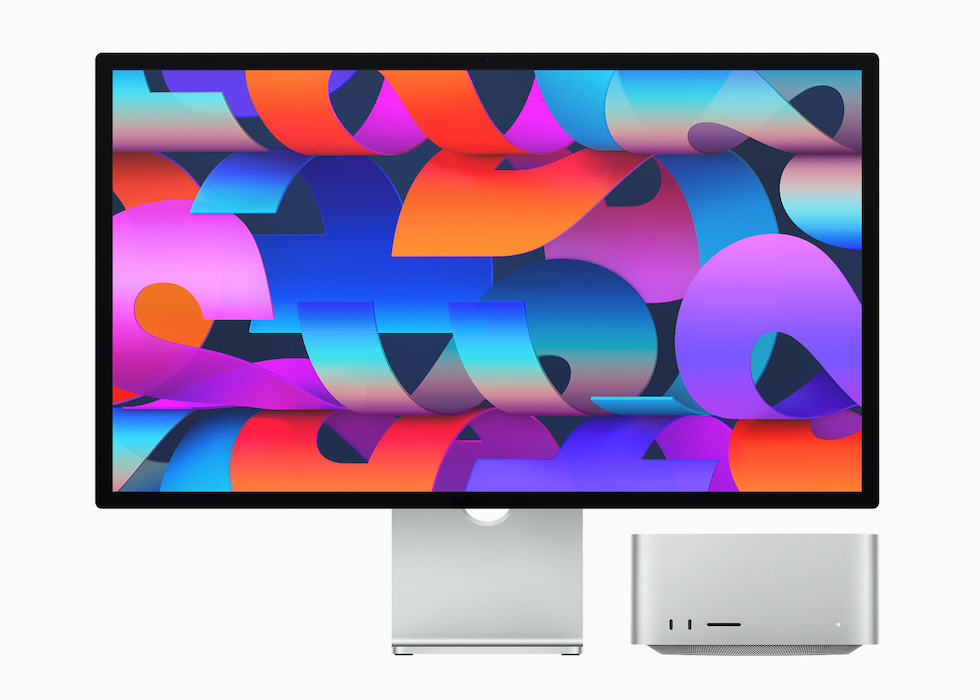 In almost the same breath, it also announced the Studio Display — an eye-burning display that performs as well as it looks, but without the price tag many of us at MartianCraft were expecting. This new Mac Studio and Studio Display combo realizes a dream many users had been hoping for since Steve Jobs announced the iMac in 1998 and the world lost the Power Mac.
Don't get me wrong: The iMac made Apple an icon, but dedicated designers and engineers were left in a desert between the iMac — not realistic for dedicated work — and the Mac Pro Tower that was super powerful and equally expensive.
What's more, the Mac Studio and Studio Display are powered with the most powerful silicon the Earth has ever seen in the M1 Ultra. This is, somehow, two fused M1 chips that magically deliver speed together with Apple's own UltraFusion architecture. The name alone sold me; I don't even need it, but now I want it.
Check out the specs:
5 nanometer process
20 CPU cores (16 high-performance cores, 4 high-efficiency cores)
Up to 64 GPU cores
114 billion transistors
Up to 128 GB of unified memory
800 GB/s memory bandwidth
2.5 TB/s interprocessor bandwidth
32 core neural engine capable of 22 trillion operations per second
Built-in Secure Enclave
In all seriousness, how will the competition even begin to compare? That is speed and power that could most likely guide a SpaceX rocket. Personally, I am not an engineer nor a designer — I'm a sales guy. Still, computer upgrade anxiety is real, even for me. I can only imagine what this new combo will mean for our engineers and designers, who actually need that speed and power.
Bottom line: The new Studio announcement delivers a great solution that users have been wanting for decades. Sweet.
iPad Air
iPad has been a hugely successful product for Apple, supporting multiple product variations across a range of price points. The 2022 iPad Air that debuted at the spring event takes one of the most popular iPad models, the iPad Air, and supercharges it with an M1 processor and 5G support.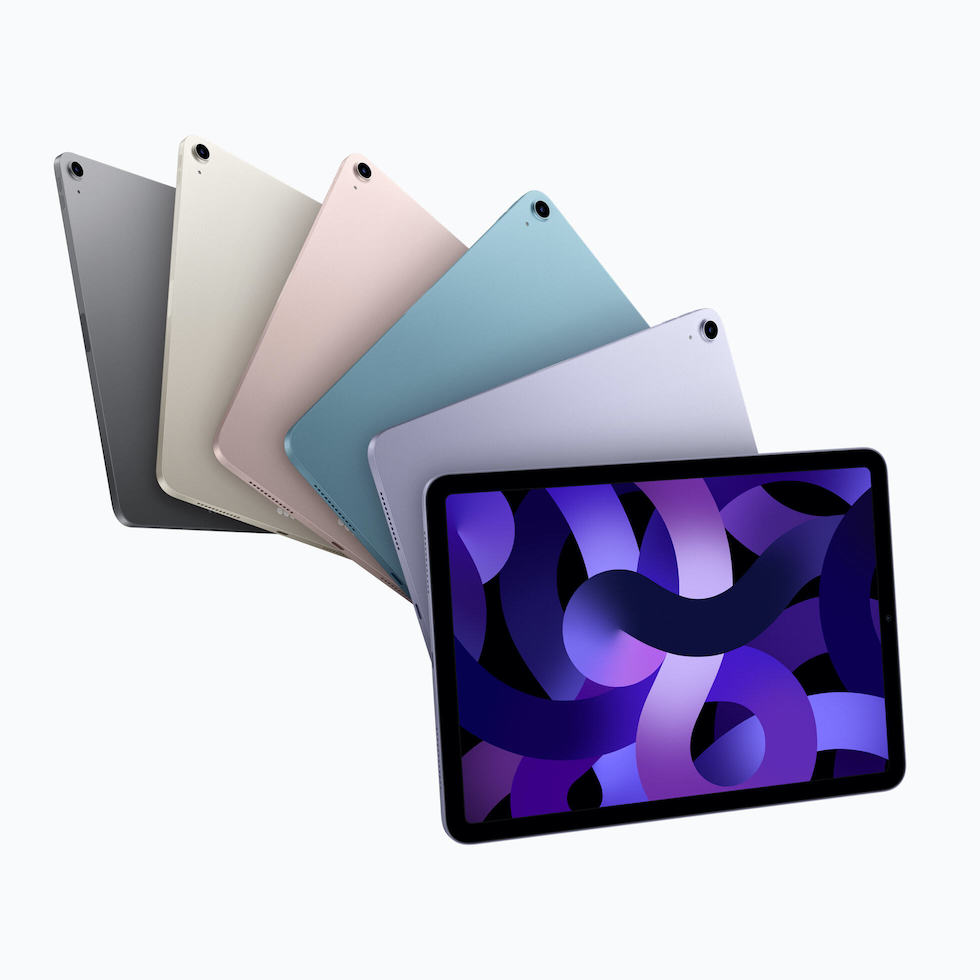 While the iPad Air lacks some of the higher-end features like ProMotion, Face ID, and larger storage capacities, it gains Center Stage, 5G, an 8-core GPU M1 processor, and compatibility with the Magic Keyboard — one of our favorite accessories that turns an iPad into a full-fledged laptop replacement for most users.
We imagine this iPad becoming the model of choice for most users, with both individuals and organizations that supply iPads to users choosing the iPad Air over the lower-cost standard iPad, which did not receive an update at this event. The M1 chip alone is worth the price difference, as it allows videos, photos, and ARKit scenes to process much faster than its predecessor could manage. On average, the new iPad Air is 60% faster than its predecessor and starts at $599.
iPhone SE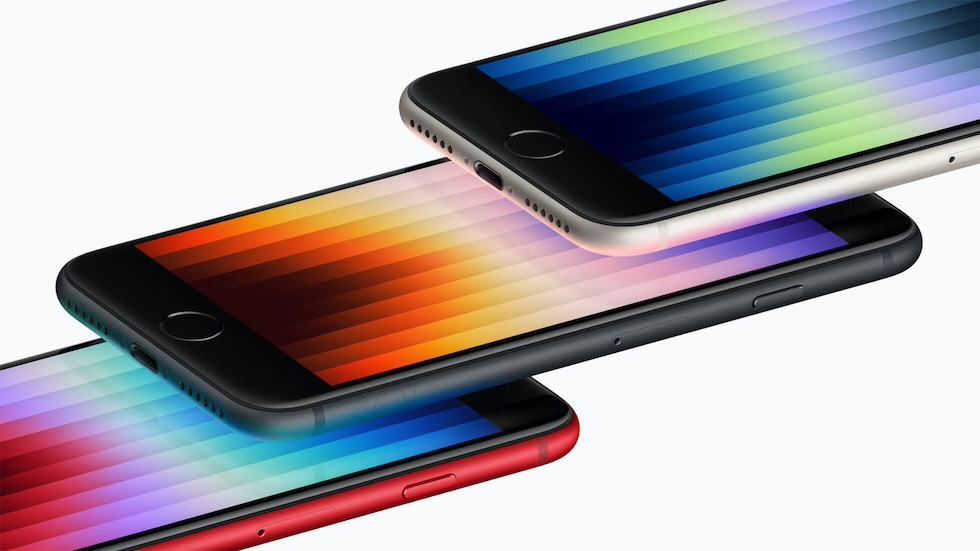 iPhone SE is Apple's lowest-cost, entry-level iPhone. It allows Apple to hit an extremely low price point while maintaining device quality, with a 4.7-inch screen that many users enjoy and feel is just the right size. Ask any iPhone SE user what they think of their device, and they'll likely tell you that it's built well and has Touch ID, which some users prefer.
The iPhone SE 2022 model gained a lot of improvements that any iPhone SE user will be happy to add to their pocket, including a better battery, an upgraded A15 Bionic system on a chip that supports 5G, and a new camera system that can support Deep Fusion (an iPhone Pro feature that, before this event, wasn't available in the lower-cost lineup).
In addition, Apple has increased the durability of the device by adding the new glass technology that it uses on its newer devices plus added support for IP67 water and dust resistance.
The iPhone SE's starting price of $429 really bridges the gap for new users who simply don't want to spend $1000+ on a phone as well as enterprise customers that need to purchase substantial numbers of devices for users who don't need the latest technology found in the current generation iPhone 13/iPhone 13 Pro.
Overall, Apple's March 2022 event was a big success, and we're excited to see some new products from Apple to kick off the year. Apple teased that the Mac Pro was the last remaining computer to be transitioned to their Apple Silicon architecture, so we have to guess that it will be coming later this year, completing the long process to transition off the Intel processors.
Apple's platforms are brighter than ever, and we're excited to be developing apps for all of them.
This post was written by Tyler Browning with Cory Bohon.