I am a bit unique compared to my awesome MartianCraft colleagues: I oversee marketing and sales for the company, requiring skills outside of design, engineering, or project management. While we all must organize ourselves to do deep-thinking work throughout the day, I am also running client-facing meetings as well as fielding plenty of phone calls and emails. All this requires me to organize my remote work setup to facilitate these activities.
Office
I try to keep my monitor at head and eye level. I find that this is not only ergonomic but also makes me more efficient. I use notepads for note taking and my iPad and iPhone all the time as well. This allows me to be effectively organized, with everything I need surrounding me. That way, I can focus on the work and grab tools near me as soon as I need them.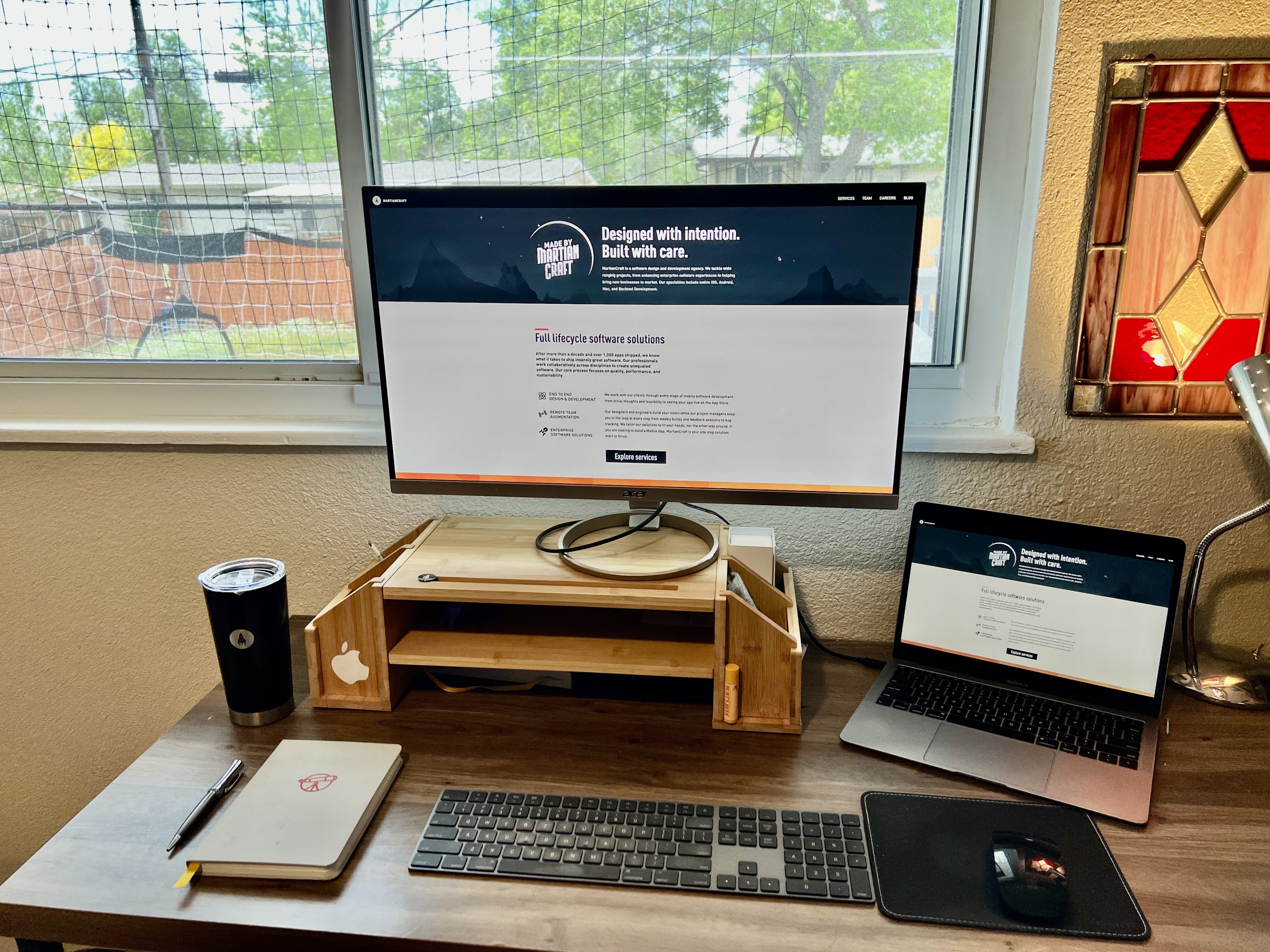 I spend a lot of time on video calls, both internally and externally with potential clients. Because I represent the company, it has always been important to me to have a purposefully designed background. This helps immensely with establishing rapport during a first call with a client or an outside team.
As you can see in the photo below, I have a mix of MartianCraft banners and personal items in my background. Many of us have the same banners in our workspaces, and I have had several clients tell me that they like that we represent the company this way. They like the branding, our logo, the tagline banner — it all presents very well.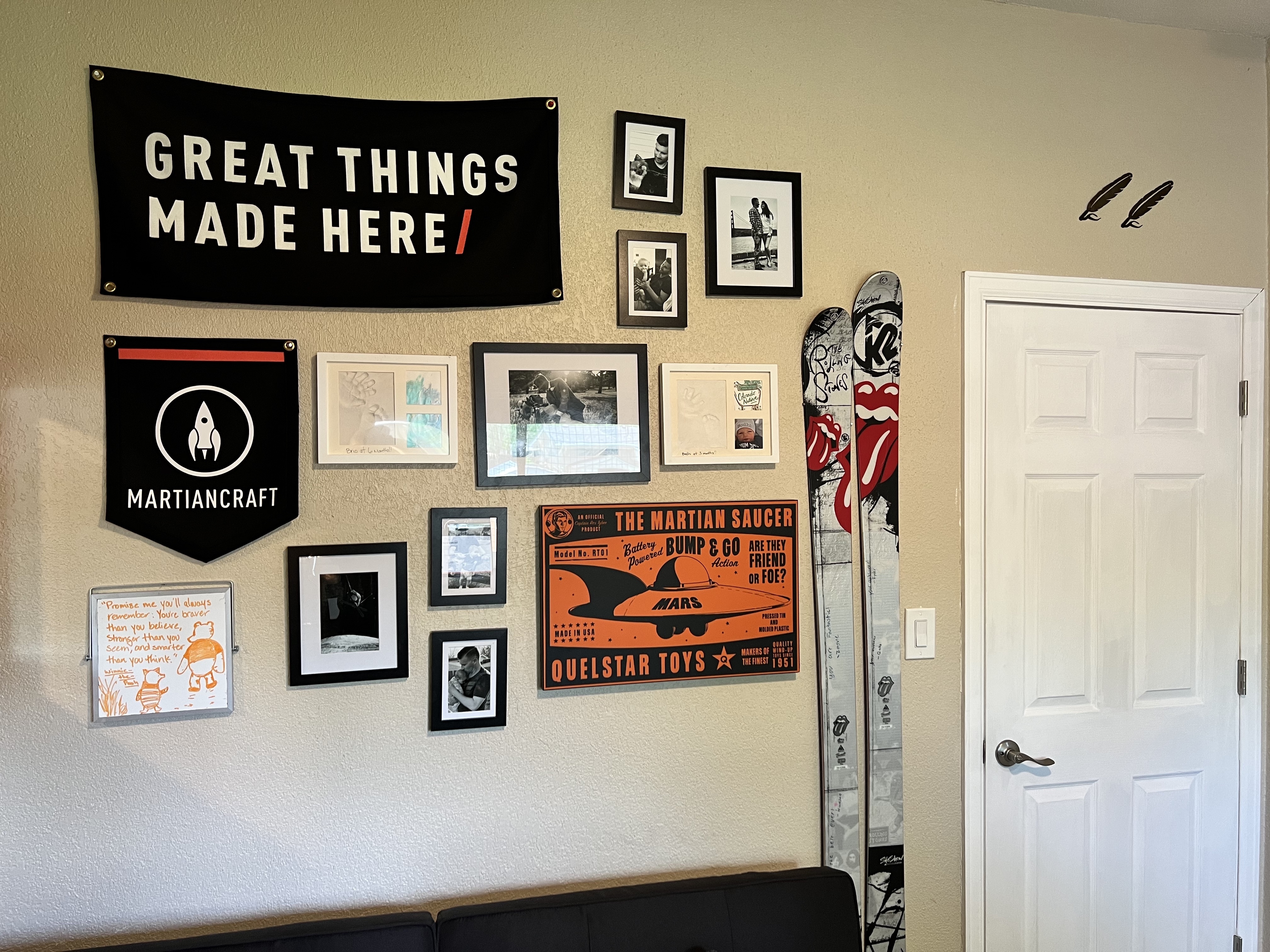 Fitness
I am a believer in the importance of incorporating fitness into each day in my work week. This helps me with breaks in the day-to-day work, helps me work through different thoughts, and even allows me to think about creative problems.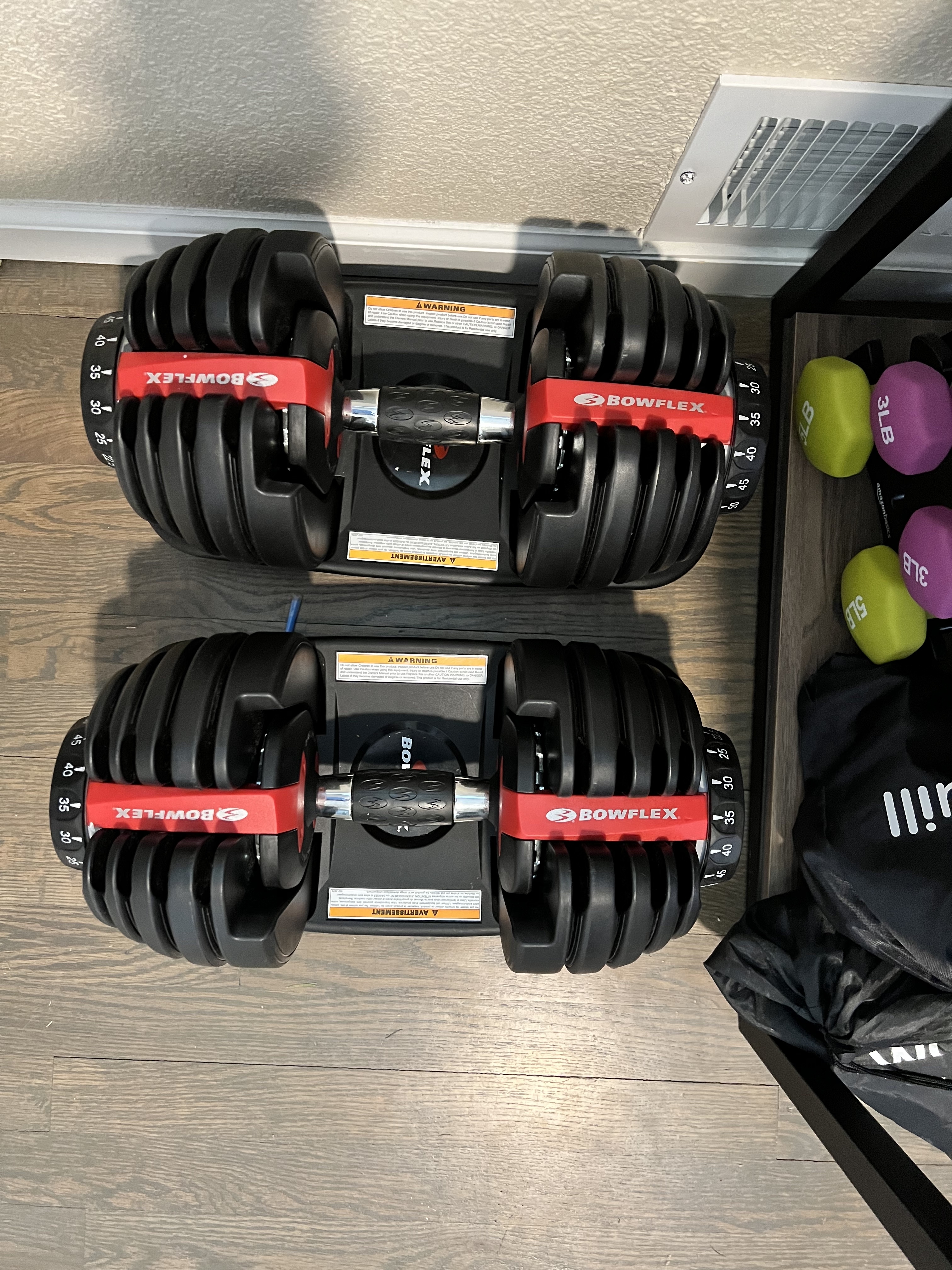 My home office has a couch and plenty of floor space to do whatever I would like that day. I often keep things very simple, with a lot of bodyweight exercises. I also keep a few weights in sight, next to my desk. This helps remind me to get that fitness in for the day and provides a simple way to hop up out of my chair and get it done without ever leaving the office. The time saving alone is massive.
Productivity
Remote work is not easy — something many people have discovered during the pandemic. MartianCraft has been a remote-first company for over a decade, and everyone on our team has had to build a system to stay focused and find optimal performance day to day.
It is extremely easy to find distractions at home. When I first started working out of my house in 2014, I had to immediately find a system that would allow me to stay focused on the work. Sometimes the simplest solutions can be the best: I close my office door, and that grants me the ability to dive into my workday. If the day is a big one, with back-to-back calls or meetings, I take 10 minute breaks after each hour, if I can. The quick break lets me reset and reflect on the conversation that just happened.
But we can't always lock ourselves in our remote offices and only come out when the day is finished. When the Colorado weather allows, I take my MacBook to the table on our outdoor patio and work for an hour or two. I don't do dishes, water the plants, or get drawn into some other distraction, but just getting outside is a fantastic way to get a break from the "office" and get a different perspective on whatever I'm working on.