WWDC '23 is officially here, and were we ever wowed by what Apple unveiled during the keynote address on June 5! Apple not only introduced new hardware, completing the transition from Intel to Apple Silicon, but also announced major updates to Swift, SwiftUI, macOS, iOS, iPadOS, watchOS, and tvOS — and, of course, we cannot stop talking about visionOS and the possibilities that AR and VR bring to the development, entertainment, and business worlds.
In this post, we'll break down all the announcements from the WWDC '23 keynote address, what's new, and what these announcements mean to us and the user and developer communities in general.
New Mac Hardware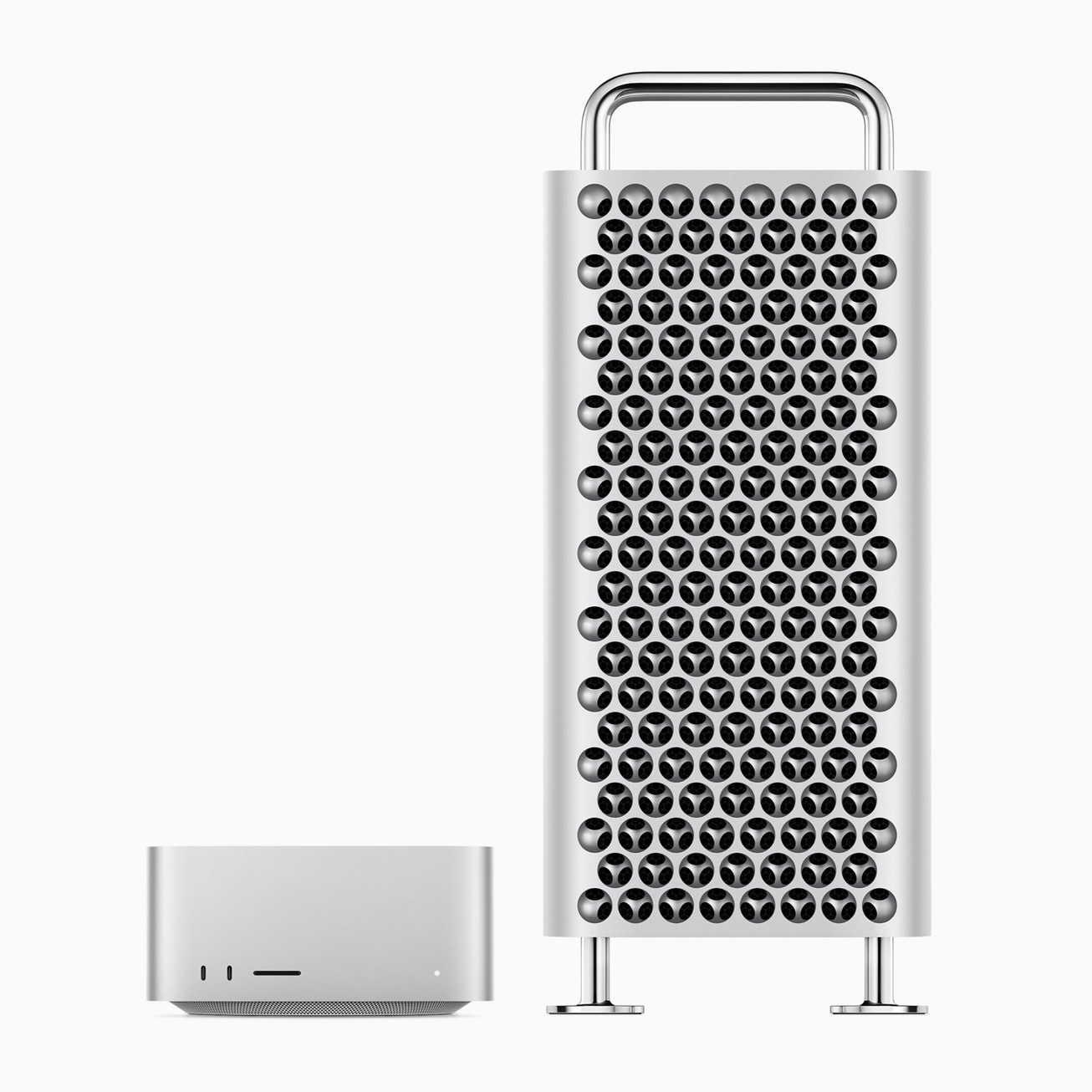 Apple surprised us during WWDC by announcing some new Mac hardware. The biggest surprise was the announcement of the Mac Pro completing its transition over to Apple Silicon. This means the entire Mac platform has now switched from Intel processors to Apple Silicon. This is a huge milestone for Apple, and to have achieved it in such a short time frame is nothing short of magic.
New hardware also includes a new 15-inch version of the MacBook Air that features up to 24GB of unified memory and 2TB SSD storage in the thinnest chassis that Apple offers. A new version of the Mac Studio is also available, with a new M2 Ultra chip that has a whopping 24-core CPU, 76-core GPU, up to 192GB of unified memory, and 800GB/s bandwidth. The new Mac Pro is also based on this architecture but offers a similar design to the older Mac Pro and the same beloved PCI expansion functionality and media engine with hardware acceleration built into the board.
This milestone is very important for software developers as well, because as Intel systems begin aging out and users begin switching to Apple Silicon, developers will no longer have to compile Intel binaries of apps.
iOS 17 and iPadOS 17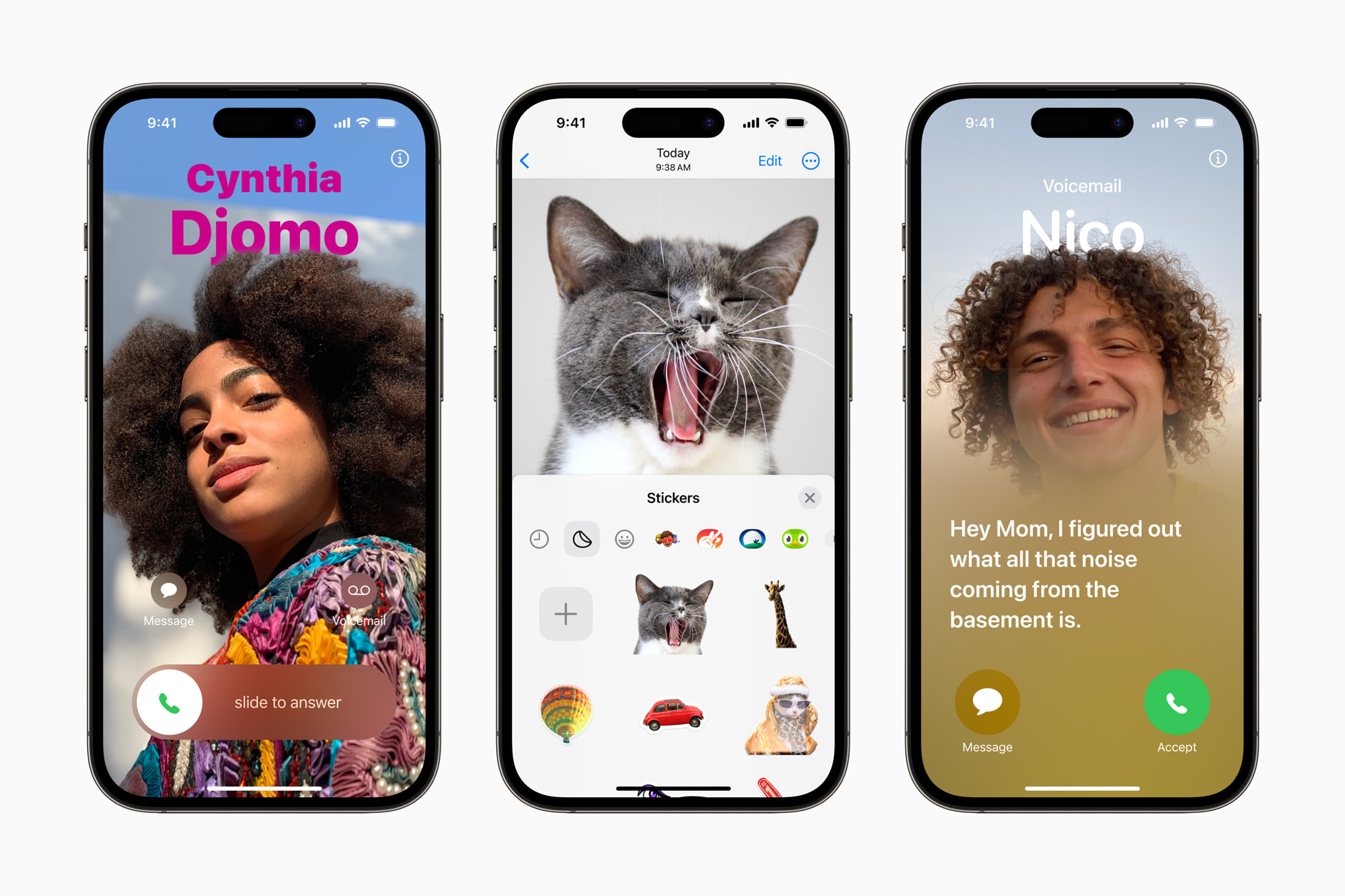 This year we're seeing what some might refer to as a "Snow Leopard" release for iOS. iOS 17 promises a number of refinements to the overall experience of using an iPhone, rather than a sweeping overhaul. We are excited to see this, as we depend on these devices multiple times a day — stability and high performance are critical.
The most surprising change goes back to the beginning of iPhone and updates the Phone app itself. For some of us, the Phone app may not even live on the Home screen anymore, as the iPhone has transformed into so much more than just a phone (will Apple ever rename it?). These changes add a slew of personalization around your contacts, letting you customize how your phone displays information when someone is calling you.
The most exciting addition to the Phone app for many will be Live Voicemail, a feature that lets you "screen" a call that has gone to voicemail — almost like some of us did back in the day with answering machines. But in this case, you're not listening to the audio; instead, the system is using voice-to-text so that you can see what the person is saying. This will quickly become a paramount feature as we as a society continue to battle spam phone calls. We foresee using this to monitor incoming calls to ensure we're not missing a critical call from someone like a health care provider whose number is not in our contacts.
In addition to improvements to existing apps and features, Apple is releasing an entirely new app called Journal, which is a place for users to maintain a daily journal. Apple claims they will help users complete journal entries with smart suggestions curated from photos, activities, and places, and even third-party apps can offer suggestions. Notably, Apple is making a big push here with privacy concerns; many apps on the App Store already do journaling really well (a favorite and multi-Apple award winner being DayOne), but Apple's offering is free to use and provides assurance that your data is safe with them.
Even though this is a "Snow Leopard" release, there are just too many new things to cover in one post. Check out all the details on iOS 17 from Apple here!
In iPadOS 17, we're seeing a little bit of a "catch-up" release, where Apple is adding in features from iOS 16 that didn't make it into iPadOS 16. Most notable among these are customized lock screens that include interactive widgets. Interactive widgets are an improvement to existing widgets in that they allow you to use the widget to accomplish tasks without going into the widget's hosting app. This was a highly desirable feature for many, as it lets you remain on your Home or lock screen do a quick thing and still remain focused. Yes, this feature is also coming to iOS 17! But Apple specifically introduced and demonstrated it on the iPad.
There's a big emphasis on the PDF experience on iPadOS 17, making it easier for users to fill in PDF forms, sign them, annotate them, and include them inline in Notes. We think this will be hugely beneficial to college students specifically, as they'll be able to download course material (often distributed as PDF) straight to Notes and start taking lecture notes without worrying about a third-party app subscription.
Safari is seeing a huge improvement across the ecosystem with Profiles, which let users segregate their browsing workflow across different aspects of their lives. Each profile maintains its own set of history, cookies, tab groups, and favorites, so users can define a workspace of sorts. This will be incredibly useful for those who share a device with multiple users (yeah Apple, some of us share devices!) and also helpful for keeping work and personal stuff separate. While this isn't a new idea to the browser world (Chrome has been doing it for years), it's a very welcome feature.
While a lot of the features coming to iPad are not exclusive to that device, it's great to see all of these new features. Also worth noting is that the Health app is coming to iPad, with a ton of new ways to visualize your data that is tracked using iPhone and Apple Watch. There are also improvements to Stage Manager that we're excited to try out. You can read all the details on iPadOS 17 from Apple here.
watchOS 10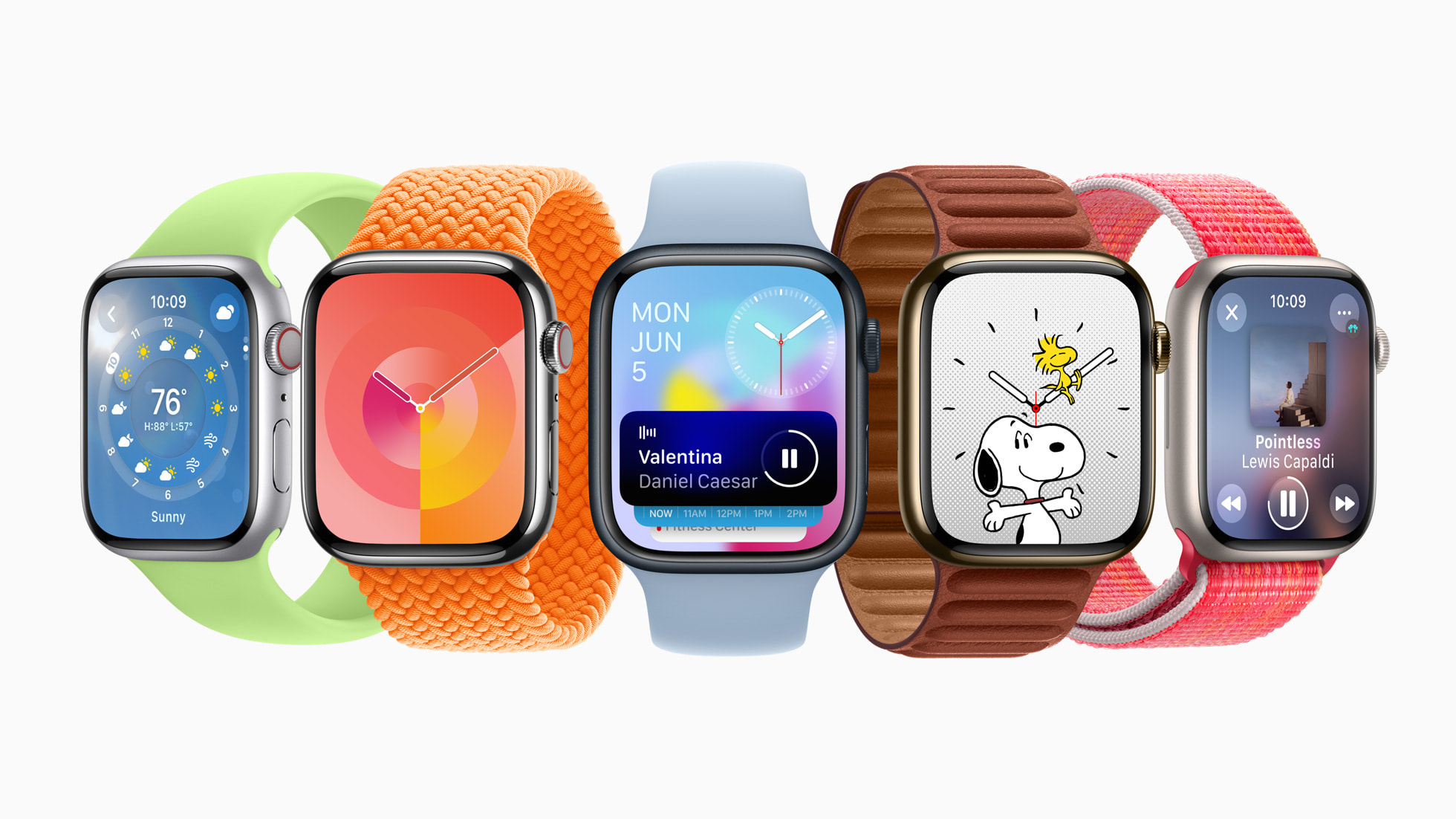 Apple continues to innovate when it comes to watchOS and the Apple Watch. This year, Apple has a completely revamped design for watchOS apps that makes them fill more of the screen for far superior user experiences. This will require developers to rejig their apps for the new design, but overall it's a win for users and designers who want apps to take advantage of more of the screen, offer split views, and provide more iOS-like interfaces.
In addition to the redesigned apps, widgets continue to take center stage as users can now rotate the Digital Crown on the Apple Watch to jump right into their most used widgets from any watch face. This is especially handy for users who prefer minimalist faces but don't want to miss out on using widgets.
There are also several user-oriented features, like new watch faces that feature Snoopy, cycling, hiking, and mental health elements, as well as vision health to measure the amount of daylight users get.
And there are several developer-focused features that will get many excited as well, including the ability to build against the Workout API to get more advanced sensor readings, additional health metrics, and more! Check out all of the details on watchOS 10 from Apple here.
tvOS 17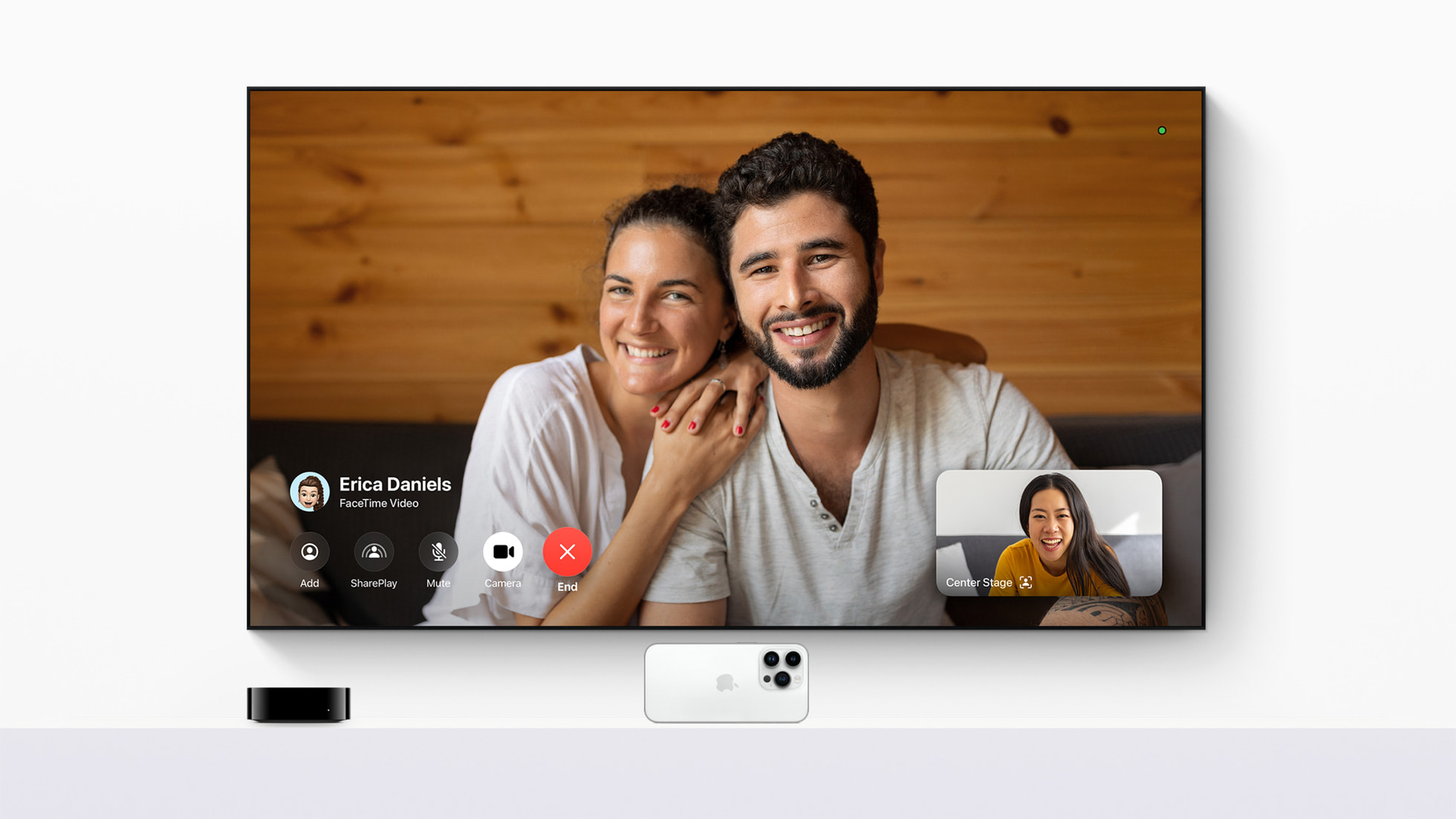 Apple also announced tvOS 17, which brings FaceTime to the Apple TV 4K for the first time, includes a new Control Center, and lets you use your iPhone to locate a misplaced Siri Remote. A new feature in the Control Center will now display the system status with the time, user profile, and other information based on a user's activity. There will now be the ability to use Apple TV 4K as the largest form of FaceTime and to start calls directly on Apple TV. You will also be able to hand off calls from an iPhone or iPad to the Apple TV while using the device's camera and microphone for the call through Continuity Camera.
Center Stage will now be a key feature for the new tvOS, to keep everything in the room framed and centered. Ever wanted to watch a show with others? You will now be able to do this with the introduction of Split View, which will allow users to continue to view videos, shows, movies or other content with other users. Soon the largest screen in the home will allow for video conferencing or presenting with the integration of Webex and Zoom to come later this year.
We love screensavers on Apple TV, and tvOS 17 will have many new locations, including the Redwoods and Arizona's Monument Valley. Users will also be able to use photos from their personal libraries or shared libraries and even create customized screensavers in Memories.
Fitness users will enjoy the new Apple Fitness+ features, including Custom Plans, a fun, fresh way for Fitness+ users to receive a custom workout or meditation schedule based on day, duration, workout type, and more. Another sweet new update called Stacks allows users to select multiple workouts to do in sequence. Avid Fitness+ users will also enjoy Audio Focus, which will let them leverage the trainer's voice or enhance the volume of the music.
macOS Sonoma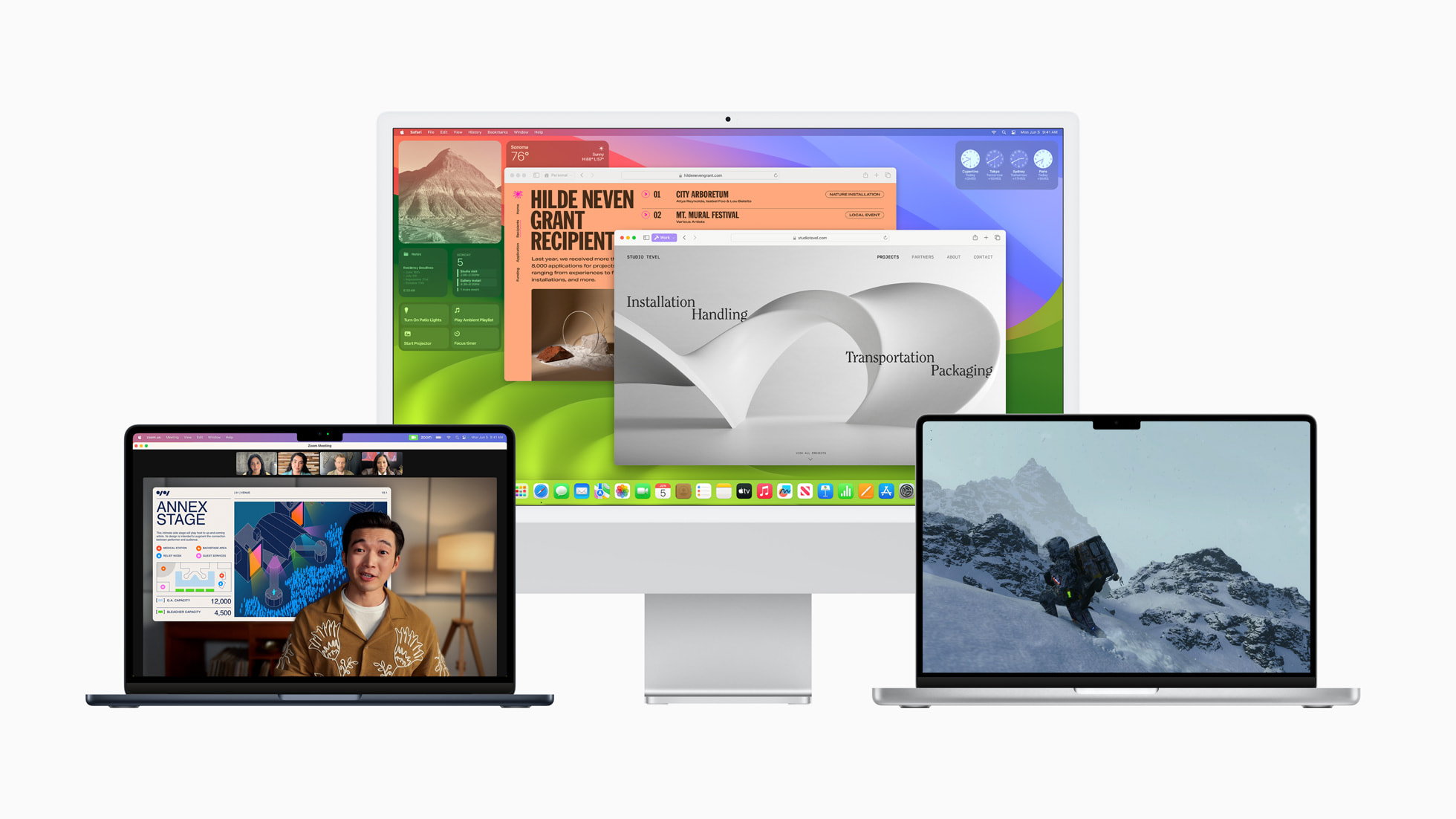 At the WWDC 2023 event, Apple also introduced macOS Sonoma, the newest iteration of its desktop operating system. Notable additions in this version include the ability to place widgets on the desktop, an enhanced game mode, and dynamic aerial screensavers. Following Apple's previous release patterns, the update, also referred to as macOS 14, is expected to become available as a developer beta shortly and as a public beta in the upcoming weeks. The general release is expected later this year.
One of the key updates is the introduction of draggable widgets, which can be moved from the Notification Center to the desktop. Additionally, users can import widgets from their iPhones through Continuity if both devices are connected to the same Wi-Fi network. These interactive widgets support tasks like ticking off items on a to-do list and controlling media playback or smart home devices. When a window is opened, the widgets are designed to fade into the background seamlessly.
Another notable addition is the new Game Mode designed to optimize CPU and GPU resources for gaming on Mac. This mode aims to reduce latency for connected AirPods and Xbox and PlayStation controllers, and Apple assures compatibility with all games on the operating system. To emphasize their dedication to gaming, Apple featured game developer Hideo Kojima during the event, announcing the arrival of Death Stranding Director's Cut on macOS.
Improvements have also been made to video conferencing. The Presenter Overlay feature lets users display content like slideshows while their face remains on camera. Additionally, a collection of reaction AR effects can be used during calls and are compatible with various video conferencing applications.
Safari, Apple's web browser, will receive updates as well. Web apps will function more like regular macOS apps, with support for notifications and the ability to pin them to the dock. Profiles have been introduced to keep cookies, browsing history, and tab groups separate based on usage, whether it's for work or personal purposes. Private browsing windows provide enhanced protection against web tracking and automatically lock when not in use, and Apple aims to streamline the secure sharing of passkeys and passwords through iCloud Keychain.
Check out all of the details on macOS Sonoma from Apple here.
visionOS and the Vision Pro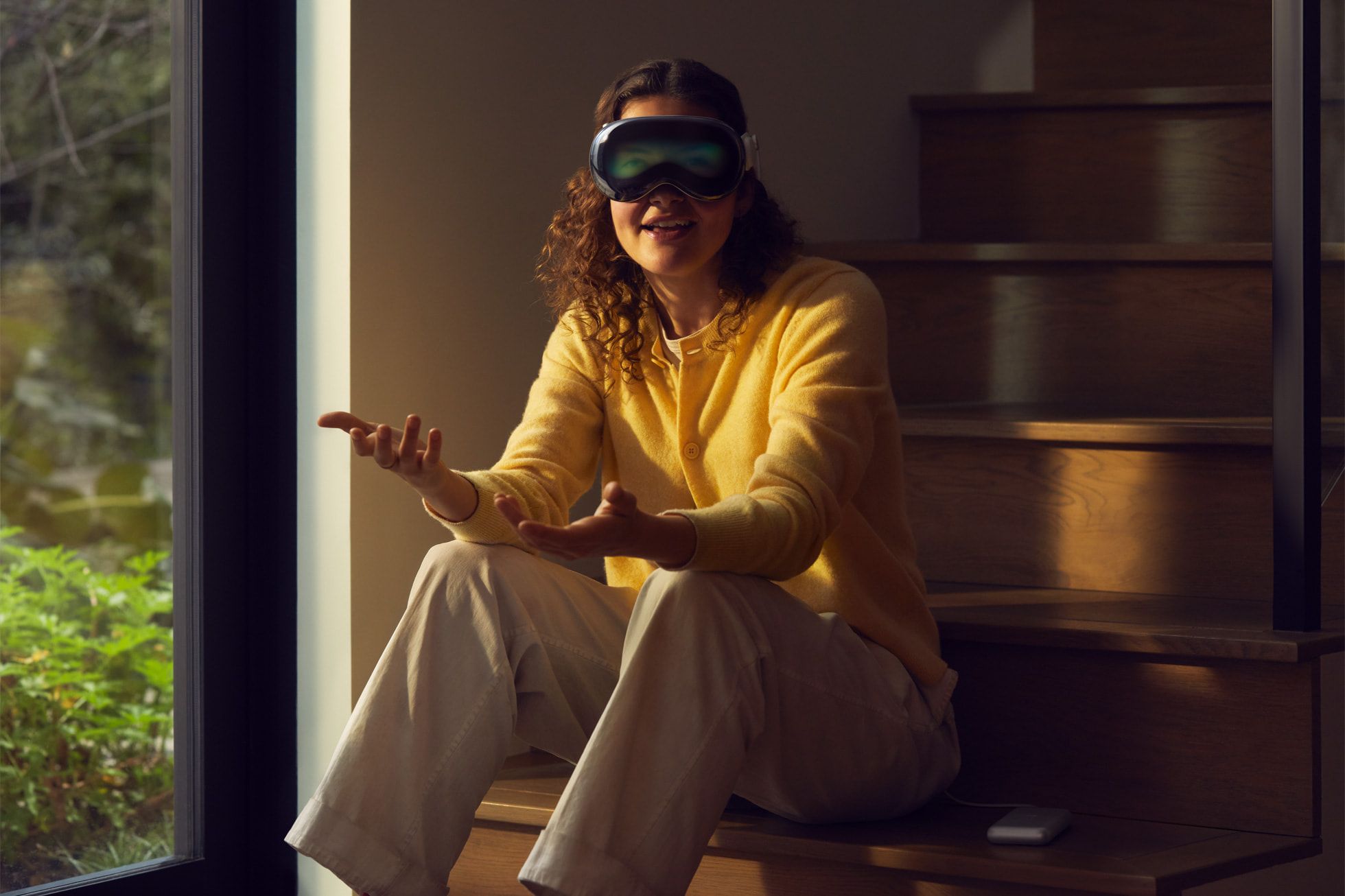 What stole the show at WWDC and was the "one more thing" was visionOS, a new platform for AR and VR, and the Vision Pro headset. There's so much to unpack for visionOS and Vision Pro that we're dedicating an entire post just to that. Read more about our thoughts on Vision Pro here on the Syndicate in the coming days.
Of course, WWDC is just kicking off, and we still have a week of fun around the developer conference. Keep an eye on MartianCraft socials on Twitter, Mastodon, and Instagram all week, as we'll be posting updates about Apple's announcements, sessions we're watching, and more!