2022 has brought us many Apple announcements already, but September is always the apex of Apple announcements for developers and Apple lovers alike. It's the time of year when Apple rolls out new iPhones and Apple Watches and begins to release its fall product lineup and refreshes. We await this time of year with humble anticipation for what's to come.
The September 2022 Apple Event did not disappoint, revealing a lot of new features on products that we've come to love over the years. Apple decided to take this opportunity to release refreshes for iPhone, Apple Watch, and AirPods Pro. Let's take a look at these product announcements and what each means.
iPhone 14 & iPhone 14 Pro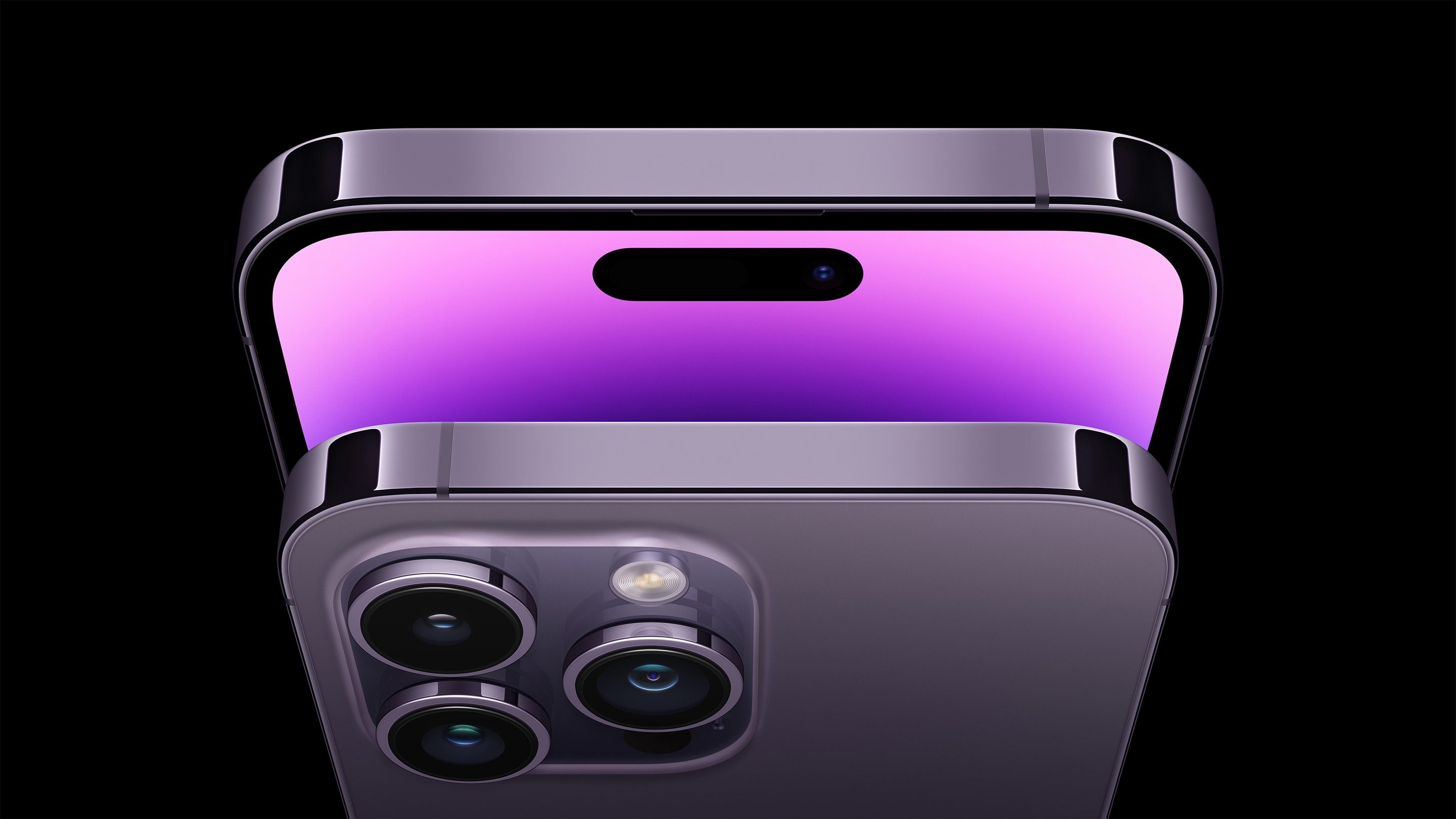 iPhone 14 is Apple's baseline phone. It's what new users and those upgrading from previous models of iPhone will likely inquire about and choose. It provides the best bang for the buck and the latest features, with the processing power from the last generation of iPhone Pro products repacked into a nice form factor that appeals to the widest audience.
This year's iPhone 14 range keeps the existing design but adds the faster A15 Bionic chip, a better screen that comes in 6.1-inch and 6.7-inch variants, better battery life, and an improved camera system that all around make this an appealing product for the majority of iPhone users.
iPhone 14 Pro was also updated for the prosumer market and those looking for the best that Apple has to offer in the iPhone space. It adds an always-on display, the world's first-ever 48MP camera system, and a new notch area dubbed the "Dynamic Island," which hides the notch in a pill-shaped area that dynamically refreshes to show alerts, notifications, and third-party app integration.
We're especially excited for the Dynamic Island feature and what that integration means for third-party apps and developers. We will have more coverage on this feature when the API is available from Apple, which we expect later this fall.
This year, Apple also rolled out several new safety features as a part of the iPhone 14 device lineup. In particular, they added the ability for the device to detect when its user has been in a severe car crash and report that to emergency services.
Finally, one of the coolest features that we've seen come to the iPhone in a while: Emergency SOS via Satellite. This feature allows users in a remote area without Wi-Fi or cellular service to point their device to the sky (assisted by an app) to get a satellite signal and report their location for emergency services, send text messages, or just update their Find My location for friends and family in a non-emergency situation. This is a new service directly from Apple that will be free for the first two years when purchasing an iPhone 14 and will launch in the US and Canada later this year.
Apple Watch Series 8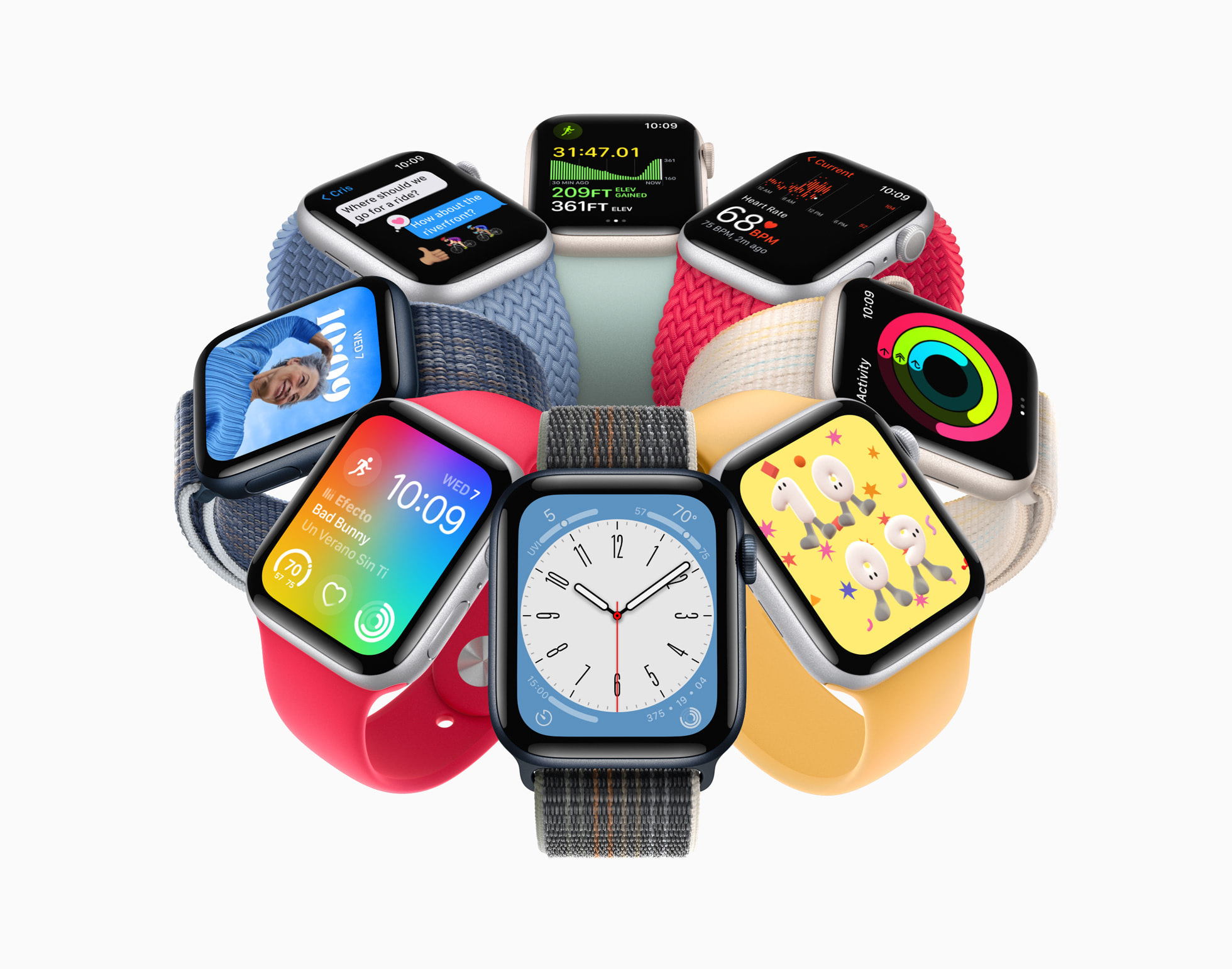 Apple Watch Series 8 provides new functionality in the same form-factor that we've all come to love. New features include the ability to detect severe car crashes, like iPhone 14 devices, and a new body temperature sensor that can measure your baseline temperature and changes from that baseline throughout the day and while sleeping. And a low-powered mode that's coming to watchOS 9 will allow Apple Watch Series 8 to eke out more than 36 hours of battery life with minimal impact to features. Overall, we're excited for these iterative features coming to Apple Watch Series 8.
Apple Watch Ultra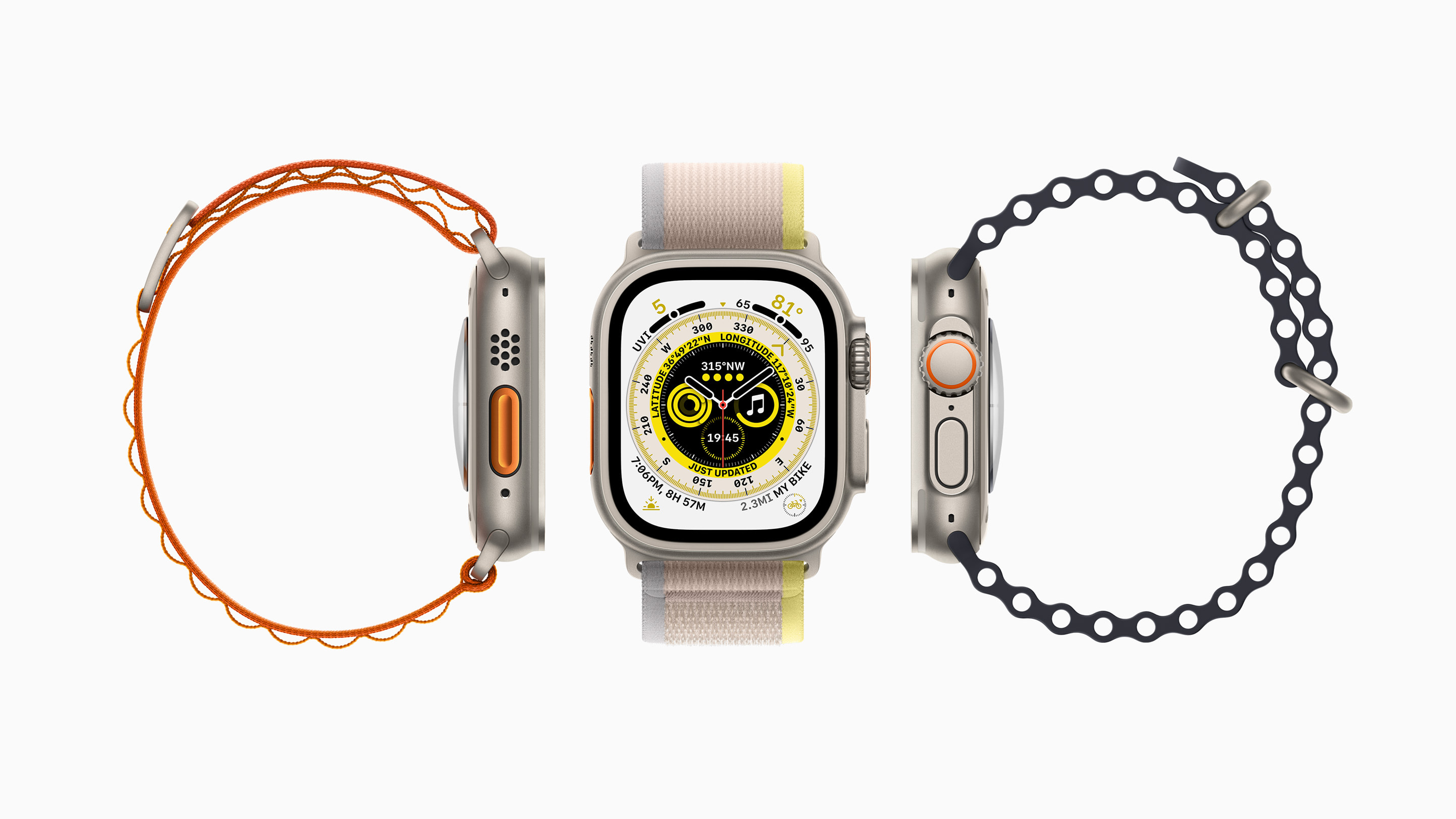 With the announcement of Apple Watch Ultra, Apple will give users a truly hard-core fitness and outdoor tool. It is industrial and chunky looking, which could be to your liking — or not. Its 49mm face is the largest for an Apple Watch yet. And Apple is straying from the aluminum body of other Watches, including the new Series 8, and moving to one of the world's toughest metals: titanium. With protective corners around the flat glass to prevent damage from impacts, this thing should be massively strong. The digital crown is fully protected and sports a more rugged look.
On the other side of Apple Watch Ultra is an Action Button in "International Orange," which will allow users to customize with their own activity actions. Apple also went in-depth with Apple Watch Ultra's scuba capabilities; the Action Button seems to have prominent functionality for this particular sport, in partnership with diving tech company Oceanic.
Apple Watch Ultra combines the safety features of watchOS 9 software with new, hardware-specific features. These include the Ultra's highly accurate dual-frequency GPS that works to calculate your pace, location, and distance, as well as mapping of your route. The Ultra also boasts two speakers with a location emitter and improved communication. Three microphones mean that communication can be clear in all types of conditions, especially since Apple wrote a machine learning program that picks the best mic for the situation. The improved battery offers 36 hours of run-time for the Ultra (and up to 60 hours on low-power mode) — pretty impressive.
Finally, Apple announced three new bands, based on different outdoor activities. Alpine Loop is for mountain activities, Trail Loop is for backcountry activities, and the Ocean Band is specifically made for scuba diving or surfing.
AirPods Pro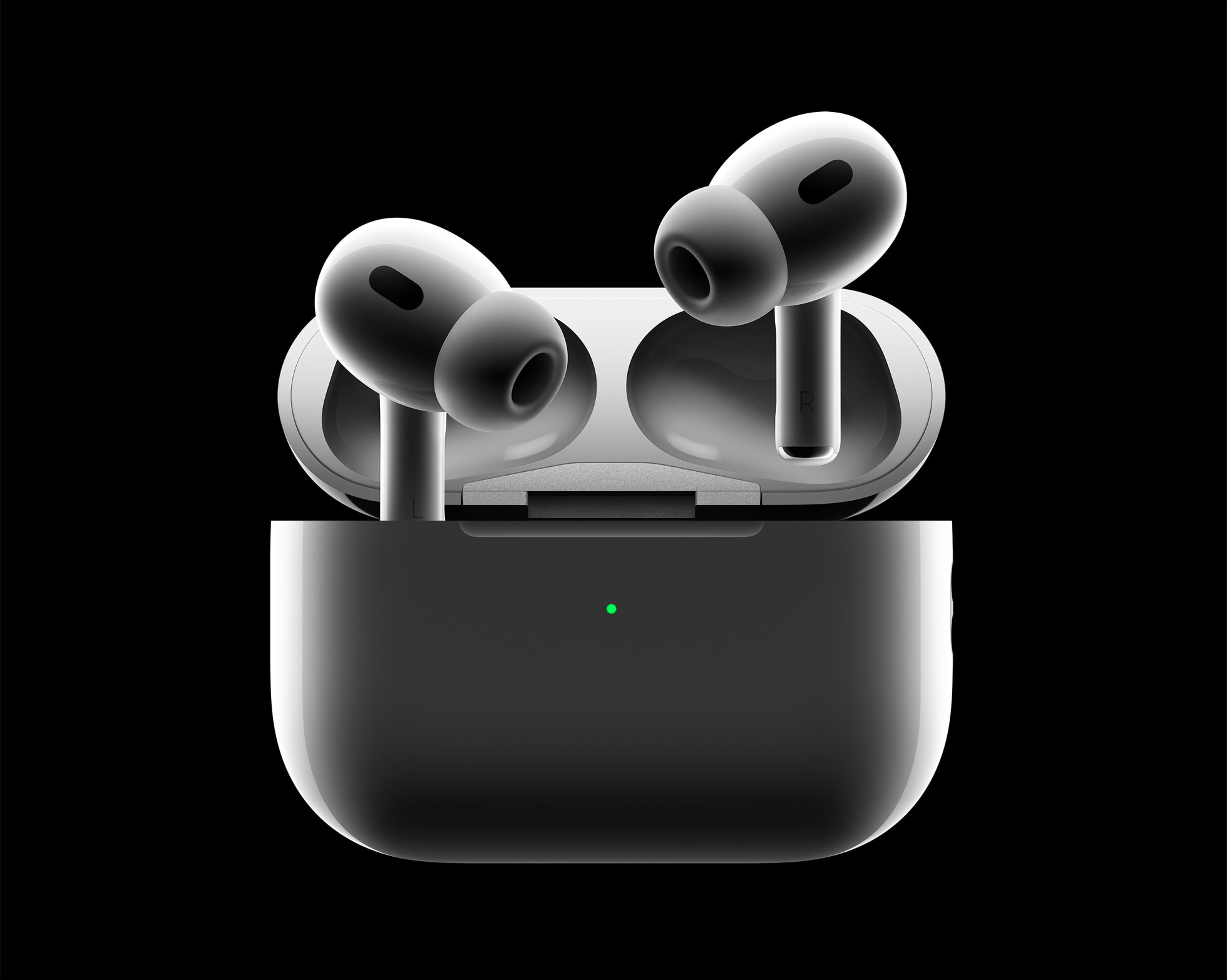 AirPods Pro have long needed an update, and we're finally getting it. The changes mostly come in the form of enhanced noise cancelation, improved audio quality, and a snazzy new case. The first two features speak for themselves, and we can only imagine that the audio quality will be as terrific (or better) as it was on the previous model. There's also a new touch sensor on AirPods Pro that allows you to control your listening experience in new ways, swiping forward and back to change songs.
The case, meanwhile, has received a huge upgrade: With iOS 16.1, users will be able to find their AirPods Pro 2nd generation through the Find My app, with precision tracking. In addition, the case will support MagSafe charging and has a loop area that accessories can be added to for carrying protection.
We cannot wait to upgrade our listening experience with the AirPods Pro 2nd generation.
What's Missing
Notably missing from the September 2022 Apple Event was any mention of iPads, iPadOS, or macOS. While Apple typically holds a separate event for iPad and Mac in October, many features in iOS 16 center around using all three device types together, like the iCloud Share Photo Library, Notes, Mail, Messages, and more. When these features roll out to iOS 16 on September 12, they will be missing for Mac and iPad users until we get macOS Ventura and iPadOS 16 later this fall.