A decade ago, working from home in the tech industry was still an outlier. Who knew that remote work would become foundational to the economic success of so many as the world faced a perilous global pandemic? Even as many return back to the land of the brick and mortar office, the cubicle farm, and the water cooler, others have found that remote work is a good fit for their lifestyle and productivity.
Liberation
As a software developer since the 1990s, I became enamored with the idea of working remotely from home early in my career. Since I acquired my very first computer at the age of 10, I have been obsessed with building the perfect environment to program software and play games. I always maintained my ideal working environment in my home — even after maturing into the responsibilities of adulthood and graduating to the grueling commute from the suburbs.
After failed negotiations with prior employers, I finally got my opportunity to work from home in 2012, with a company that had just begun to embrace remote work. It was all that I had dreamed of — and more.
Beyond the freedom from the daily commute and the pleasure of working in my home office, just steps from my kitchen and the comfort of my own bathroom and all the other amenities of home, I discovered an advantage I hadn't even considered before. Working from home not only liberated me from the office but also liberated my whole family geographically. We could — for the first times in our lives — live where we wanted to live and not just where the job was.
MartianCraft, at the core of its culture, is about work-life balance. That includes the ability to live wherever it makes the most sense for the employee — whether that's near your family home, near the ski slopes, or wherever else your passion lies. The key to that balance is in remote work.
For me, I get to wake up to this view every morning: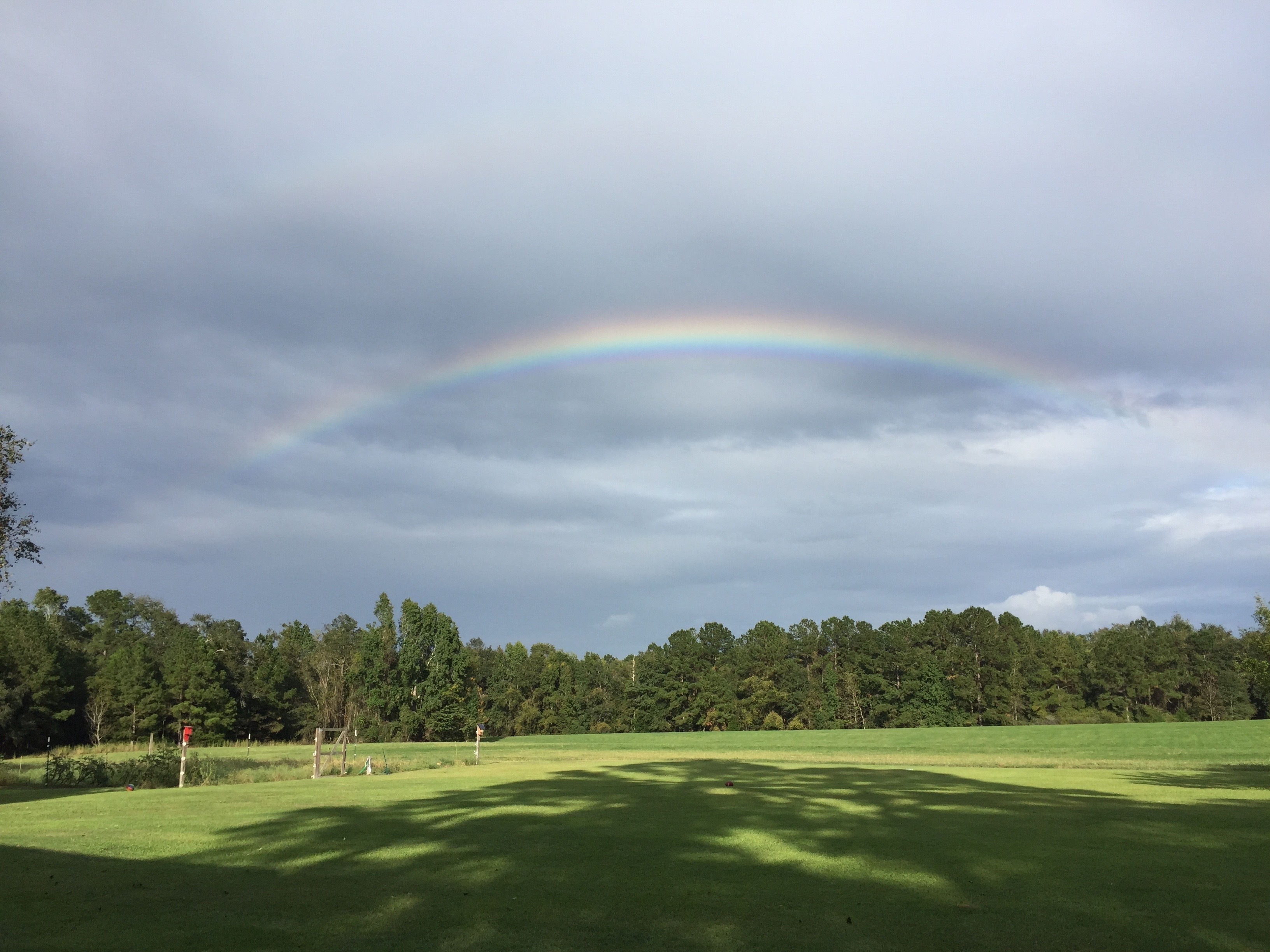 I get to live in a part of the country with a fairly low cost of living and near extended family (and, as a bonus, not far from the beach).
The Workspace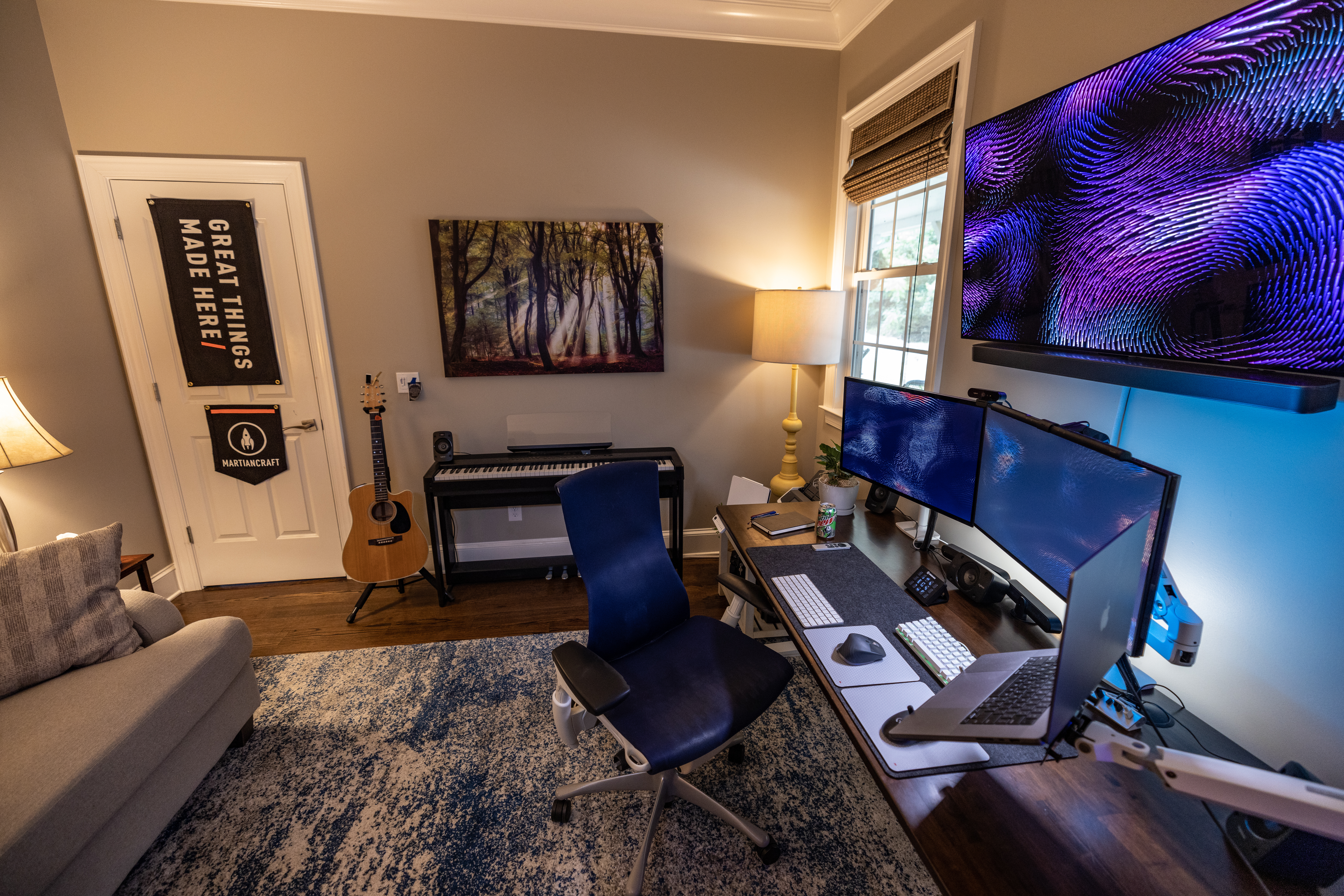 But maybe you just want to see the setup — the tech that makes it all possible. To be clear, I'm a computer nerd. I have dedicated a lot of energy to my home setup — it is my workspace, after all. I spend more time in this space than practically anywhere else in life. As a lifelong developer who works with amazing designers, I care deeply about form. And as an engineer, I care about function as well.
I would love to get rid of every visible wire. I would love to have a clean desk with nothing but the most essential elements. But I can't. I need more. I need the extra speakers, the lights, the cameras, the drones, the storage. I definitely need the can of Diet Mountain Dew.
The Desktop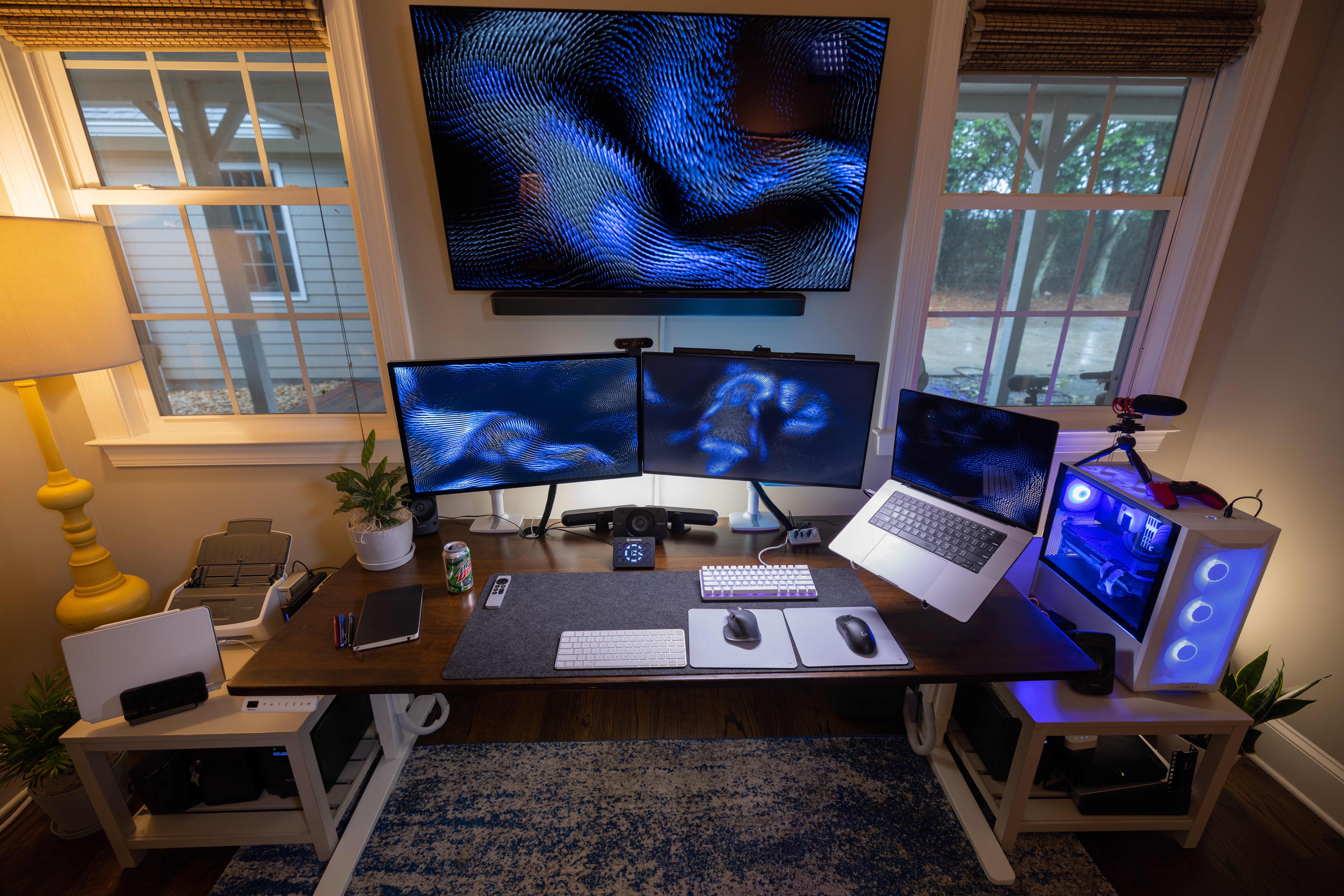 My current primary work machine is the vaunted Apple Mac Studio (M1 Ultra, 64GB RAM, 4TB SSD), which sits on the table to the left and powers the 27-inch Apple Studio Display mounted to a white Ergotron LX single monitor arm on the left of the desk.
On the right is my traveling machine — the 16-inch MacBook Pro (M1 Max, 64GB RAM, 4TB SSD), also mounted on a tray suspended by an Ergotron arm. I don't have to travel as much for work as I used to (thanks, COVID), but I have to be able to take everything with me when I do. Thanks to Apple's iCloud syncing of documents and such, I can work from either device at almost any time without any loss in functionality or access to my latest work products.
Of course, all work and no fun make for a dull life. It's all about the balance. The colorful PC on the far right is a custom-built Windows gaming PC. Mac for real work — PC for play. It is connected to a G 27GN950-B 27-inch UHD (3840 x 2160) Nano IPS display (1ms, 144Hz) that is also shared with the Mac Studio and MacBook Pro.
The Room
In remote work, even for the most isolated of roles, you will have to videoconference. While working from home definitely provides more flexibility and efficiency than the office, I think it's very important to present your office and yourself in a positive and professional way. This includes both the quality of the video stream — using a high quality camera, such as the Logitech Brio 4K webcam mounted at the top of my monitor, the lighting — either through good natural light or a key light on your desk, and a professional and clean background. I make sure my background is always free of distractions (and dirty clothes). Many today choose to blur their background or use the cute replacement wallpaper available in Zoom and other tools. While this is fun in the right setting, I think it's often important to show that the environment you're working in is professional and actually conducive to work. I generally avoid fake backgrounds or even blurring my background in video calls.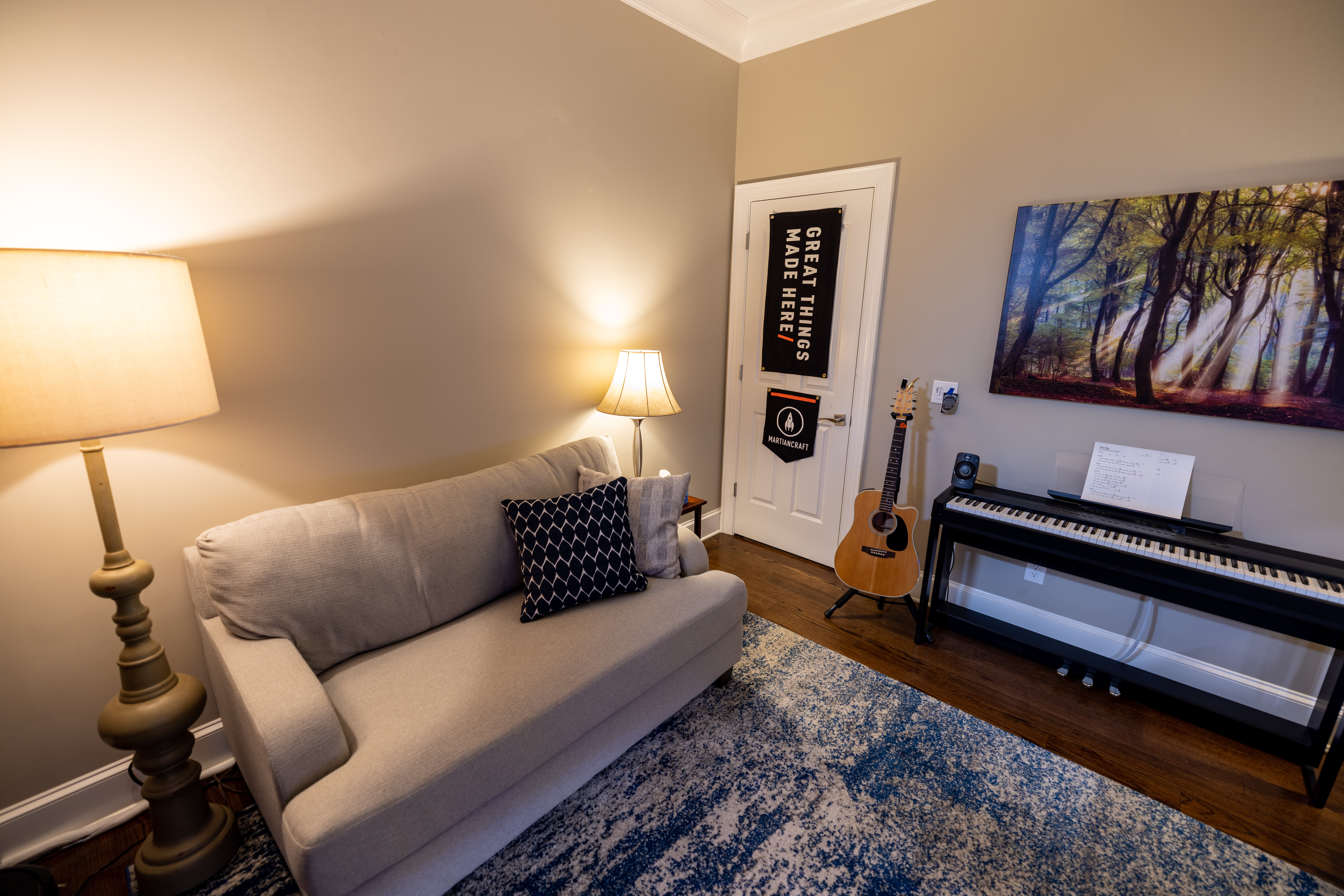 I've tried to create a background that is mostly neutral but also speaks a bit to my personality — and includes some MartianCraft branding. On a large video conference with multiple vendors or organizations, everyone can easily see who I represent.
That said, the back wall above my couch is begging for something. I'm waiting to find the perfect piece of art that reflects my interests.
My office also offers opportunities to explore personal interests when the daily grind requires a breather. With a small roll of the chair, I can grab a guitar or spend some time at the piano. The gaming PC (and the sim racing setup, not shown) is always a healthy distraction to recharge before another session of work. As I said, maintaining work-life balance is a critical aspect of MartianCraft culture and of a healthy work environment. Some of my colleagues have written about the ways they make sure that life doesn't distract them from work; I have the opposite problem: a tendency to work from sun up until I go to bed. So having those opportunities to take a break and shift my focus close at hand is, for me, an important part of my work setup.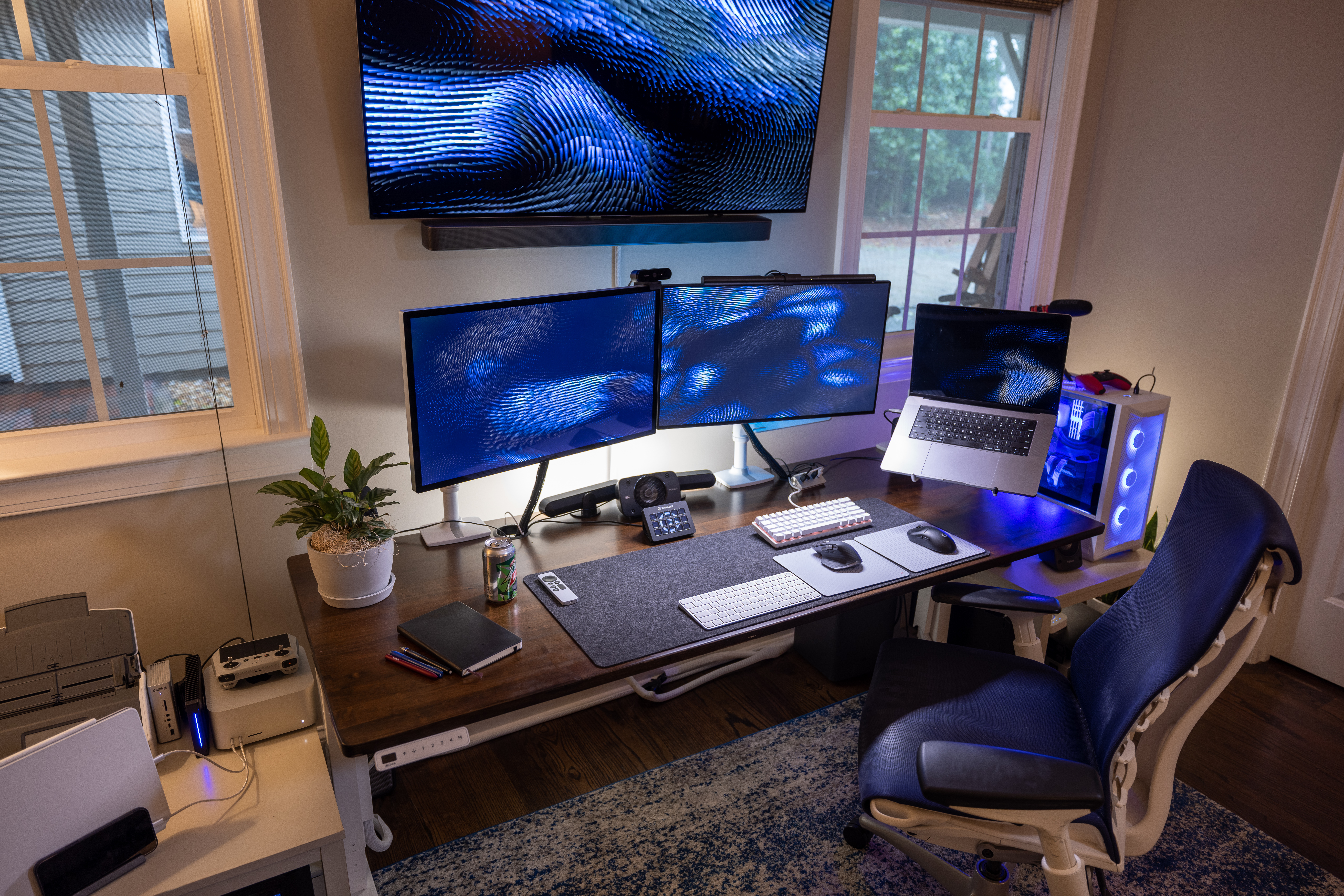 Summary
A good home office serves both as a facilitator for your work and as an environment to foster your well-being — a space that inspires and welcomes you. It should be a place that helps you find that work-life balance, and it's worthy of time and effort to thoughtfully design and implement. And don't be afraid to change it up as you learn what works and what doesn't — and just to discourage staleness. Your home office is worth the effort, particularly if you have the wonderful opportunity to work remotely!
Equipment List
An incomplete list of tech and equipment:
Foundations
UPLIFT V2 standing desk (72-inch x 30-inch)
2 x APC smart-UPS SMT1500 battery power supply
2 x APC surge protector power strip (4320 joule)
Primary Mac Desktop
Mac Studio (M1 Ultra, 64GB RAM, 4TB SSD)
Apple Studio Display (5K)
White Ergotron LX single monitor arm
OWC ThunderBlade 8TB (Thunderbolt 3, NVME)
OWC ThunderBay 4 RAID (Thunderbolt 3, with 12TB drives)
CalDigit TS3+ Thunderbolt 3 dock
Apple Magic Keyboard with Touch ID
Logitech MX Master 3 wireless mouse
Logitech Brio 4K webcam
El Gato Stream Deck Mk. 2
Gaming Desktop
Custom-built gaming PC (ASUS GeForce 3080)
LG 27GN950-B 27-inch UHD (3840 x 2160) Nano IPS display (1ms, 144Hz)
White Ergotron LX single monitor arm
Razor Huntsman Mini 60% gaming keyboard
Logitech G Pro wireless gaming mouse
Laptop
16-inch MacBook Pro (M1 Max, 64GB RAM, 4TB SSD)
White Ergotron LX single monitor arm (with laptop tray)
CalDigit TS3+ Thunderbolt 3 dock
Mobile Devices
iPad Pro 12.9" (5th Gen)
iPhone 13 Pro Max
Other Stuff
ScanSnap ix1500 sheet-fed scanner
Brother HL-L8360CDW duplex color laser printer
LD OLED G1 Series 55-inch 4K TV (mounted on wall)
Felt desk pad, 40-inch 'x 16-inch
BenQ Screenbar LED monitor light
DJI Mini 3 Pro (DJI RC) drone
Various Phillips Hue lights and bulbs