Last month, Apple released iOS 14.5 publicly to users after being in beta testing for a few months. This big update featured many new things, including face mask unlocking with Apple Watch, support for AirTag, and revamped Siri voices.
However, Apple didn't waste any time before sending out the iOS 14.6 public and developer betas shortly after, and it includes a significant change for being able to manage iOS upgrades when you have the public beta or developer beta certificate installed on the device — a change we gladly welcome.
Traditionally when a developer or public beta certificate is installed on a device, it receives only beta versions of iOS and will continue receiving those updates while that certificate is installed; however, as of the iOS 14.6 beta, developers and public testers have the ability to upgrade their device to the latest stable public version of iOS as well, all while keeping their beta certificate installed on the device.
To upgrade a device to the latest public release version with a beta certificate installed, perform these steps:
Open the Settings app
Navigate to General | Software Update
Select the iOS version number in the "Also Available" section
Under the "Also Available" section, it will display the next available public release or beta candidate that you can install on the device. If you have a release version installed on the device, then you can easily go back to the beta track by selecting the next available beta version that will appear in that "Also Available" section.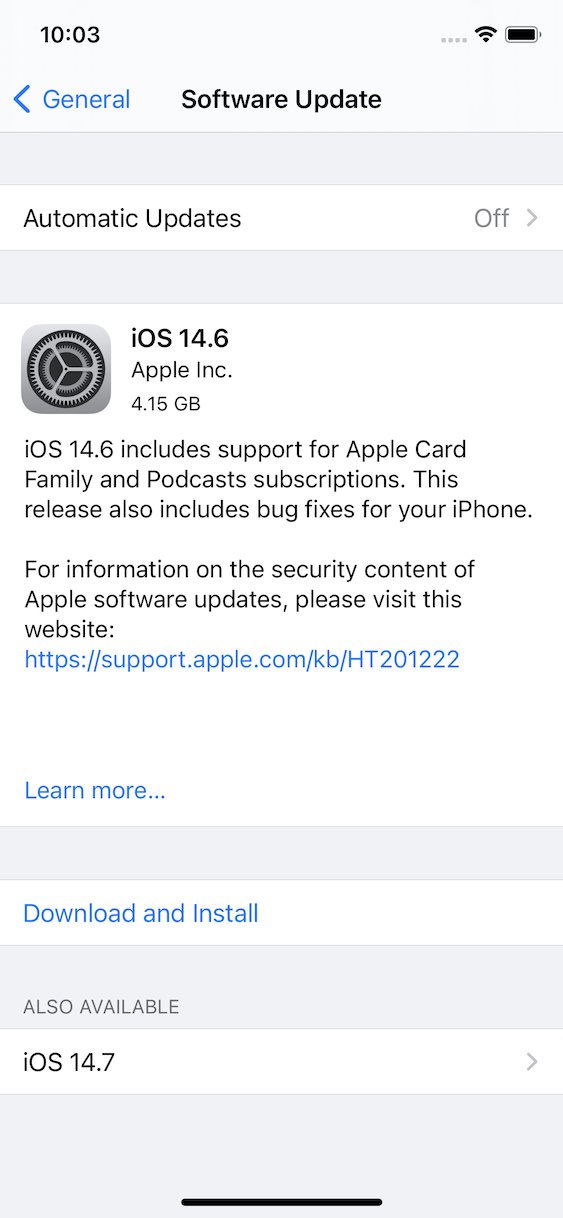 Being able to choose which version of iOS you want to upgrade to is a game changer for devices that are used for testing or development. No longer do you need to uninstall the developer or public beta certificate, restart the device, then check for updates: You can now manage all of that right inside of the Software Update screen in Settings.
Having clarity into which versions you can easily upgrade to on your test and development devices is a welcomed change—and one that we will be using regularly.
This feature is available on both iPadOS and iOS starting in version 14.6. Download the latest version of iOS and get this feature on your devices by going to Settings > General > Software Update.